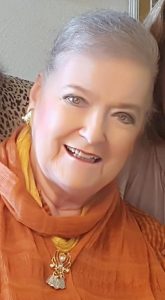 Kateri Wurtele Angel, 82, passed away on May 22, 2021, in Seabrook, Texas. She was born on March 30, 1939, in Sainte-Thérèse de Blainville, Canada, to Annette Kimpton Wurtele and Joseph Oswald Campbell Wurtele. Kateri was the second of a family of 8 children, and though she was afflicted by polio at the age of 6, she never let this stop her from pursuing her dreams. Kateri earned her degree from the University of Montreal and began her career as a phlebotomist at the Queen Mary Veterans Hospital in Montreal, Canada, where she met her beloved husband of fifty years, Dr. Federico Angel. Together they traveled the world and began a family. She later earned a Master's degree in Psychology from the University of Houston – Clear Lake, subsequently opening a psychotherapy practice in Seabrook, Texas where she provided marriage and family counseling to numerous members of her community. Kateri had a passion for learning and continued her studies later in life attending enrichment classes at Rice University and The Women's Institute of Houston.
Kateri was a devout Catholic and was a member of St. Paul the Apostle Catholic Church for many years. She enjoyed philosophy, opera, and the classical arts. Kateri always found or made a friend no matter where she went. She frequented Starbucks to gather with friends and family over a good cup of coffee and good conversation.
She is preceded in death by her parents, husband, and two sisters: Therese Desjardins and Marie Carriere. Kateri is survived by children Dr. Ian Angel and family, Kateri Angel-Williams and family, Stephanie Angel-Roman and family, Dr. Federica Angel-McCarthy and family; sister, Helene Wurtele and family; brothers, Dr. Paul Wurtele and family, Jean-George Wurtele and family, Campbell Wurtele and family, Charles Wurtele and family; and numerous extended family members and friends in Canada and Colombia.
A memorial will be held on Wednesday, June 2 at 10:30 a.m. at St. Paul the Apostle Catholic Church, 18223 Point Lookout Dr, Houston, TX 77058.  In lieu of flowers, donations may be made to St. Jude charities.