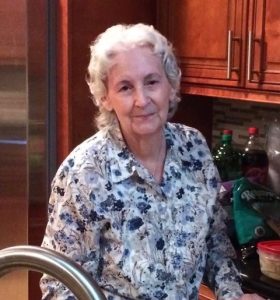 June Mildred (Kelty) Keen, 95, of Houston,TX departed from our arms, into the loving arms of her creator on November 04, 2022 in Missouri City, TX.   She was born in Biloxi, MS on June 25, 1927 to her parents, the late Elvira Garec Kelty and the late William Kelty, Sr. Her mother passed away when June was just a little girl, at the age of 11 years old. Afterwards she and her sister, Mary, were cared for by their grandmother, Adelaide Garec, until she passed. They would then be placed in St. Mary's Orphan Asylum, in Natchez, MS., where they would be cared for by the nuns.
June is preceded in death by her sister, Mary Kelty Maddox; half siblings, Marie Kelty Alphonso, William Kelty, Jr., Lucille Kelty Fernandez, Joseph Kelty and James "Jimmie" Kelty Sr.; her loving companion, Randolph Parker, of Houston, TX; her second husband, C.W. "Charlie" Keen of Houston, TX; her first husband, Daniel Joseph "Buddy" Alves, whom she married in Biloxi, MS in January 1949; children, Charles Keen, Virginia Keen Ore and Sandra Keen Truitt.
Ms. Keen is survived by her children, Gail Alves Morris of TX; Ray Alves and his wife Linda of TX; Johnny Alves and his wife DanDan of TX; Kim Keen Anderson and her husband William of TX; Tim Keen and his wife Rebel of TX; granddaughters Robin and her husband Lex, Alexandria and her husband Pierre, Gabrielle and her husband Jason, Joy, and Stacie; grandsons, SSgt Joshua Sturm USAF and his wife SSgt Maxine Sturm USAF, Shon Keen, Brandon Keen, Timothy Keen and his wife Dalia, Christopher Keen, Steven Alves and his wife Jen; 9 great-grandchildren and loving nephew Eric "Rickie" Kelty and his wife Pauline.
June's Catholic faith was a part of her life from her beginnings. Raised in a Catholic orphanage after the passing of her mother and grandmother, she went on to also attend an all-girls Catholic school, where she graduated high school.  She spoke often of how good the nuns and priest were to her. Prior to becoming ill she would sit each night with her little prayer book, as she said her rosary, read and said her prayers. Many times, when calling her in the evening you would hear her say, "Oh, I'm saying my prayers and getting ready for bed." Her children were told many times, "I'm praying for you", or told in times of trouble, "Ask God to help you, I do!" Even though encountering many hardships in life, her faith always brought her through many difficult times.  June was a housewife/homemaker during her younger children's lives.  She never failed to have 3 meals a day on the table, ironed all her family's clothes and always had lunches packed. She took pride in this.  June loved participating in the PTA at the elementary school: throwing class parties, selling popcorn or snow cones – anything they asked of her to do.  Anything her neighbors needed; she was there for.  After her 2nd husband, C.W. passed away, June worked at Palms Plant Nursery for a period of time, with her daughter Gail.  She found comfort, and joy in plants and visiting with customers.  She had quite the 'green thumb'.  This is where she would eventually meet her loving companion, Randolph.  They would go on to have many good years together, until his passing at the age of 99.  June was drawn like a magnet to any person or animal she could care for. From the elderly needing meals, to all the cats on the block there was never a question that any person or animal would ever be in danger of going hungry as long, as she had anything to do with it. She was known by her family, her friends, and many others that she met as always being very giving and generous. Her children's friends, still ask about June to this day.  Anything June had she would rather give it away to someone else, than keep it for herself: money, gifts, or anything you needed. She couldn't say no!  June loved to cook! Food was her obsession. If asked for her recipe – she would say, "I don't know, I just use a little bit of this and a little of that. I don't follow a recipe." From gumbo, to spanish rice, to cornbread dressing- there was never a bad meal she fixed. There was no way you were getting away from her without taking food home with you. NO was not acceptable! You usually left, with no less than a bag of groceries to take home. Being reminded upon your return, "Do you still have my Tupperware containers?" While being cared for the last 3 years at Tuscany Village Skilled Nursing and Rehabilitation Center, she never stopped worrying and caring about others. Many times, her aides would be sure to tell her family that she wanted to know, "Have they eaten?" or ask, "Did you have enough to eat?" She loved to bake during the holidays and any other occasion she could find: divinity, banana-nut bread, banana-pudding, chocolate covered cherries, and multiple other sweets were always placed delicately in cans as gifts for each of her children and friends. Oh, the cans we cleaned out of her place! It was her way of showing her love for you. While at the same time torturing herself saying, "Oh, I don't know. It just didn't turn out right. I don't know what was wrong with that oven." There was no making divinity on the wrong day; the weather had to be just right! It could have always turned out better; she would agonize over. Children, oh the little children, nothing brought her more joy than fixing little bags of goodies for her grandchildren and anyone who had a child she knew. She couldn't wait to say, "This is for you darlin," as she gave it to them. June loved being with her family. She did not enjoy being alone. Although she lived in her own little senior apartment, until she became ill at the age of 91. Her children would constantly encourage her to use aids, such as: her walker, or hearing aids, but you were always met with resistance with her saying, "Those are for older people. I'm only 91! Age is just a number". She was known for being strong willed, determined, feisty and spunky. She would always meet you with, "Oh, ________(fill in with your name) I don't need that!"
She will be remembered for her Mississippi drawl when she spoke. Others surely always picked up on it, being sure to ask her, "Where are you from?", as she politely would say proudly, "Biloxi, MS." She was known for keeping her clothes ironed and her surroundings tidy. Always washing her dishes by hand. She did not like those dishwashers. She was well known by her children and grandchildren for getting so tickled with herself. You were lucky if you ever got to hear the end of a full story that she was trying to tell you. She would start laughing, then you would start laughing at her, and pretty soon, the story she was trying to tell got lost in the laughter. She was known for keeping every card she was ever given, and often pulled them out, to go back and reminisce over. But be careful, if you forgot to give her one, because a holiday or birthday wasn't complete unless she had a card to read from you. You would be sure to hear, if you didn't give one, "Where is my card? "  Not only did she like to receive them, she was sure to always give them as well, writing just the perfect note to you, making sure to say what was important for you to hear, from her. So many Juneism's to mention here. Oh, how we will miss you 'mom', 'meme', 'granny', 'grandma'!  But forever, until we meet again, you will always be held close to our heart. Her family would like to thank her loving private caregiver, Jo Lane Simoneaux; all her caregivers at Tuscany Village Skilled Nursing and Rehabilitation for the outpouring of their loving care for her. In no way do we want to leave out the 'Angels' from Vantage Hospice who cared for her also. Our hearts are forever grateful to each of you.
In lieu of flowers, the family has set up an Amazon gift registry listed in Memory of June Keen for "Memory Care Companion Dolls, and Animals" to be donated for the Dementia/Alzheimer patients at Tuscany Village Skilled Nursing and Rehabilitation.
All are invited to attend a Funeral Mass to honor June at St. Helen Catholic Church, in the Chapel, in Pearland, TX, on November 21, 2022 at 1:00 p.m.  Ms. Keen, will be reunited with her mother, in a private burial side service at a later date, in Biloxi, MS.