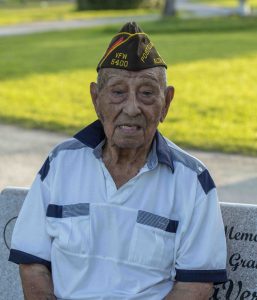 Julio Luna Jr., long time resident of Santa Fe, Texas, passed away on December 22, 2022, at the age of 99 years old.  Julio was surrounded by his children and numerous grandchildren at HCA Hospital in Houston, TX.
Julio was born March 8, 1923, in Hitchcock, Texas and later the family moved to Santa Fe, TX.  Julio attended Santa Fe School District and talked a lot about the six-man football team that he loved.
In June of 1942, Julio enlisted in the Navy soon after the attack on Pearl Harbor. Upon returning home from WWII, Julio met a man who was a WWI veteran and encouraged him and other veterans to start a veteran of foreign war (VFW Post 5400) for all veterans.  Julio, with many others, applied for Santa Fe Gold Star Post 5400; he and 56 other veterans were granted the post on December 21, 1945.  The VFW was a special place for him and for many veterans in need of support and a place to share similar experiences of wartime; Julio Luna is the last surviving charter member since the beginning of the VFW Post 5400.
Julio was privileged to be asked to speak about his experiences during wartime on Veterans Day at Santa Fe School District and participated in most Memorial Day ceremonies.  He also achieved VFW 5400 All-State Commander in 1969 and increased membership from 230 to 334, one of the largest increases of a VFW unit in the state of Texas.  In 2019, he was elected Grand Marshal Award recipient as the oldest living USN WWII living in Santa Fe.  Julio was also a member of the Masonic Lodge and achieved 3rd Master Mason. He believed in the creed of "Integrity, Friendship, Respect and Charity".
Julio was amazed at all he had seen in his lifetime such as living through the depression days, serving in WWII, watching the moon landing, and witnessing unprecedented advancements in technology, such as when he Facetimed with his grandchildren.  He was amazed that he could communicate with them through a computer.
He believed the best in others and assumed good intentions, and that everyone deserved a second chance.  Julio also had a very optimistic attitude, gave others the benefit of doubt, and believed a bad situation would get better. He believed setbacks would always improve, just given the time.
Before Julio began his career at Ellington AFB, he briefly worked at Texas City Shipyard as a Long Shoreman. He was onboard the SS Grandcamp that contained ammonium nitrate and munitions when the ship caught fire. Julio and others tried to put out the fire, but the equipment onboard the ship was inoperable. They were ordered to leave the ship so firefighters could do their job.  Julio Luna was one of the first to report the fire and was featured in the book "City on Fire" as an eyewitness to this disaster.
Following the Texas City disaster, Julio went to work at Ellington AFB as a painter and later paint Forman on base.  Julio retired on January 9, 1978, with 30 years of service.  Several years later, Ellington AFB closed due to budget cuts. Julio was asked to come back and help to deactivate the base. He accepted the proposal and worked three more years before retiring once again for good.
While working at Ellington AFB, Julio met his future wife, Emma, at the Alta Loma Café where she worked; they married on May 25, 1952.  Besides spending time with family, Julio, and Emma loved dancing every Saturday night at the VFW. If they weren't dancing, it's because they were sick or out of town. He and Emma volunteered for events that were fundraisers for veterans, which kept the doors open for veterans. His beloved Emma passed away four years ago.
Julio Luna Jr is survived by his sisters Selia Graugnard III, Flora Luna, Mary Garcia, and Lucy Rivera; daughters Belinda and husband Dr. James Scheurich, Carolyn Luna, and son Justin and wife JoDee Luna.  Julio also has nine grandchildren and 11 great grandchildren.  On behalf of our family, we extend a thank you for everyone that has been a part of their lives. Although we will miss him terribly, we find comfort in knowing Julio and Emma are reunited once again.
In his honor, family and friends will gather on Friday, December 30, 2022, at the Crowder Funeral Home, 851 Farm to Market 517 Rd W, Dickinson, TX 77539.  Visitation with family and friends will be from 5:00-7:00 p.m. with the Rosary at 7:00 p.m.
The Funeral Mass will be on Saturday, December 31, 2022, at 10:00 a.m. at Our Lady of Lourdes Catholic Church 10114 Highway 6 Hitchcock Texas 77563. The burial will follow at the Alta Loma Cemetery Santa Fe TX. Pallbearers will be Jason Luna, James Scheurich, John Scheurich, Julian Gonzalez, Austin Hefty, and Andy Silvas.
In lieu of flowers, donations may can be made to Our Lady of Lourdes Catholic Church 10114 Highway 6 Hitchcock Texas 77563, where Julio was a member for over 70 years.