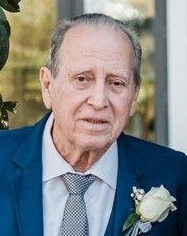 Julio Jimenez, of Clear Lake Shores, Texas, passed away on Wednesday, September 20, 2023 in Pasadena, Texas at the age of 81. He was born on September 27, 1941 in Havana, Cuba to Juan and Eloisa.
Julio was preceded in death by his parents Juan and Eloisa, siblings Juan Jimenez, Gladys Ortega and Adolfo Jimenez.
He is survived by his loving wife Marta Jimenez, son Tomas Jimenez and wife Delia of Clear Lake Shores, Texas, daughter Teresa Buchanan and husband Timothy of Clear Lake Shores, Texas, grandchildren Meagan (Buchanan) Arnold and husband Wesley of Friendswood, Texas, Travis Buchanan and wife Silvia of Houston, Texas, Sarah (Jimenez) Blue and husband David of LaPorte, Texas, siblings Marta Perez and Nelba Canino and many other loving family and friends.
In lieu of flowers, you may send memorials to Alzheimer's Association, 225 N. Michigan Ave., Fl. 17, Chicago, IL 60601.