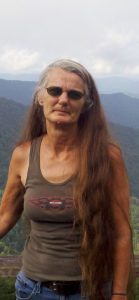 Julie Inez Adams, 64, of Bacliff, passed away October 3, 2023 in Galveston.  Julie was born January 25, 1959 to Leah Verdell Mack and William David Mack in Texas City.  She will be remembered as a loving wife, mother, grandmother, great-grandmother, and friend.
Julie was preceded in death by her parents, sisters Susan High and her husband Tracy and Kathleen Coatney and husband Bobby, brother Glenn Mack, and brothers-in-law Cecil Boles and Darryl Driver.
She leaves behind to cherish her memory her loving husband of 48 years Ronnie Adams; daughter Jennifer Adams and spouse Glenna; sons Ronnie Adams, Jr. and spouse Nikki, and Kyle Adams; sisters DeeDee Boles, Donna Dominy and spouse Waymon, Louann Brown and spouse Mack, Adria Gay Driver, Penny Jo Gallop and spouse Wesley; brothers William David Mack II and spouse Desiree, Clendon Mack and spouse Faith, Edward Mack and spouse Lynne, and Preston Mack, sister in law Connie Mack; sister-in-law Janet Mack; grandchildren Carissa, Mark, Kalib, Mickaela, Kadin, Kannon, Jordan, Kayla, and Kylie; great-grandchildren Dax, Opal, Emersyn, Marai, with one on the way; numerous nieces, nephews, and friends.
In her honor there will be visitation Tuesday, October 10, 2023, from 10:00 – 11:00 am, with Funeral Services at 11:00 am, Crowder Funeral Home Chapel, Dickinson.  Interment follows at Forest Park East Cemetery, Webster.