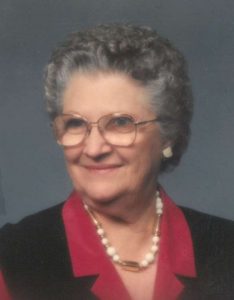 Juanita Muesse, 98, passed away on Tuesday, September 10, 2019 in La Marque, TX.  She was born on August 2, 1921 near Ellinger, TX in Colorado County to John and Minnie Zatopek.
Juanita was a member of Trinity Lutheran Church where she was active in the ladies' group and Jr. Mission Band when she was younger.  She was a charter member of the Handicapped and Retarded Association of Galveston County and helped her husband organize the annual barbecues which were instrumental in building the HRA Village now known as the The Independence Village.  She was a lifetime member of the United Transportation Union Auxiliary.
Juanita is preceded in death by her loving husband of 70 years, Edgar, her parents, her brothers Johnnie Zatopek, James Zatopek and wife Della, Jerry Zatopek and wife Grace and Joe Zatopek.  She is survived by her daughter Barbara Klyng and husband James (Jimmy), son Allen Muesse; grandchildren, James Klyng, Jr. and wife Karla, Kerry Klyng, Belinda Eason and husband George; great-grandchildren, Katie Klyng, Chris Klyng, Trey Klyng, Hannah Eason and Grace Eason; two great-great grandchildren, Sophie and Kinsey Klyng; sister-in-law Pat Zatopek and numerous nieces and nephews.
Visitation will be on Friday, September 13, 2019 from 5:00pm – 8:00pm at the James Crowder Funeral Home in La Marque and Funeral services on Saturday, September 14, 2019 at 11:00am in the Funeral Home Chapel with Rev. C.O. Magee officiating.  Interment will follow at Forest Park East Cemetery in Webster, Texas.
Pallbearers are James Klyng, Jr., Kerry Klyng, James Klyng, III, Charles Meyer, Tom Morton and Eddie Kelly.
Memorials can be made to the The Independence Village, 905 Highway 3 North, Texas City, TX   77591 or the charity of your choice.
A very special thank you to the staff at Ashton Parke Care Center and her nurse Latrina Robert for the loving care given to Juanita.