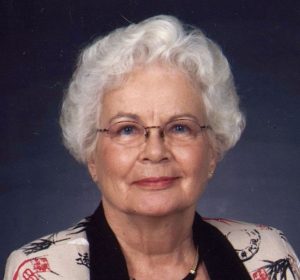 Joyce Modelle Roberts, 92, resident of League City, Texas passed from this life, Thursday, March 9, 2023 in League City, Texas. She was born in Rankin, Texas to proud and loving parents, Jesse and Cena Goodman on November 4, 1930.
She met and married Harold Glyn Mann and was blessed with two daughters and two sons. Later in life she met and married Clarence W. Roberts. Modelle was a member of 1st United Methodist Church in Dickinson, Texas. Modelle spent her working career with the space center working for Nasa contractors, Rockwell, Unisys & Univac. Through her administrative assists, she supported many missions from Apollo  to the shuttle, her favorites were the splash downs.
She enjoyed square dancing, gardening and traveling with Clarence and their close friends.
Preceded in death by both her husbands, a daughter Dede Suzanne Mann and a son, Joel Collins Mann.
Modelle leaves behind to cherish her memory daughter, Elaina Mann and spouse Linda Zitzner; son, David Glenn Mann and wife Becky; sister, Maurine Gerlich; niece, Dahlann Gerlich; grandchildren, Steven King, Sean King and wife Karin, D.J. Mann and wife Eva, Heather Nicole Strong and husband Adam; great – grandchildren, Logan King, Turner King, Cylee King, Blaine Strong, Remi Mann, and Layth Strong as well  as caregiver for Dede, Mary Jo Cruz and many extended family and friends.
In her honor a visitation will be held on Friday, March 17, 2023 from 2:00-3:00pm with a funeral service at 3:00pm at Crowder Funeral Home Chapel, Dickinson, Texas.