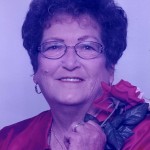 Joy Frances Beadles, 71, of Bacliff Texas, passed away March 17th, 2014. She was born on May 14, 1942 in Livingston, Texas. She was the daughter to the late Elton Choate, and Lilly Irene Sandstrum and stepfather Jesse Lee Sandstrum Sr.. A longtime resident of Bacliff, Joy worked as a business analyst in the Aerospace industry.
She is preceded in death by her mother, father, and step-father. Joy is survived by her husband of 50 years, Patrick Henry Beadles, Sr., her children; Jannell Williams and her fiancé Danny Faust, Phillip Beadles and his wife Susan, and Patrick Beadles II, her siblings; Norma Ladnier and her husband Bobby, and Jesse Sandstrum, Jr. and his wife Miranda. She is also survived by six grandchildren, five great-grandchildren, along with many nieces and nephews. And last but not least Miss Kitty.
Visitation for Mrs. Beadles will be held on Wednesday, March 19, 2014 from 6:00pm to 8:00pm at the Crowder Funeral Home in Dickinson. A service will be held on March 20, 2014 at 10:00am with Robert Garza officiating.