Jovita Adap Legaspi Kurek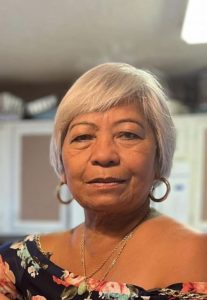 Jovita Adap Legaspi Kurek, 68, of Pearland, TX passed away on April 06, 2023 in Webster, TX.  Jovita was born on June 28, 1954 to Teodoro and Eugenia Legaspi, in Olongapo, Philippines. She has lived in Pearland for over 20 years and of the Catholic Faith.
Mrs. Kurek is preceded in death by her parents Teodoro and Eugenia; her two sons Jimmy and June; sister Emma and brother Florentino.
Jovita is survived by her husband of 27 years John Henry Kurek, Jr.; daughter Virginia Ruth Lozada; sons Johnny Legaspi, Teodoro Eugene Coleman and his wife Lauren, and Glenn Anthony Coleman; 4 sisters, 4 brothers and many nephews and nieces in Leyte, Philippines; 6 grandchildren Keanau June Legaspi, Walker Evans Legaspi, Ayana Ruth Lozada, Jazlyn Lorena Lozada, James Tyus Coleman, and Taylor Eugene Coleman.
Jovita was a devoted daughter, sister, wife, mother, grandmother and friend. Jovita possessed a heart of gold. She was very loving and giving. Coming to the states from the Philippines in the early 80's, she became very creative and independent. The simplest pleasures in life brought great joy to Jovita. Spending time with her family and grandkids was one of her favorites.  She enjoyed fishing. Trips to her property with her husband and to her home back in the Philippines. She created crafts for holidays, home decor and apparel. Played bingo and games with friends. Gardening. Jovita also enjoyed cooking feeding her family and friends, especially around the holidays.  Jovita had an uncanny ability to find happiness in her daily activities. She was free spirited, supportive, caring and her pleasant personality was contagious to everyone she met.
There will be a visitation on Wednesday April 12, 2023 from 5:00 p.m. to 7:00 p.m. at Crowder Funeral Home, 2422 E. Broadway St. Pearland, TX 77581.  Funeral Service will be 10:00 a.m., Thursday April13, 2023 at Crowder Funeral Home, with a private family burial to follow at Confederate Cemetery in Alvin, TX.  Pallbearers serving will be Johnny Legaspi, Teodoro Coleman, Derrick Stinson, Glenn Anthony Coleman Jr., Keanau June Legaspi and Glenn Anthony Coleman Sr..
In leu of flowers memorials may be made to  Kickstartkids.org