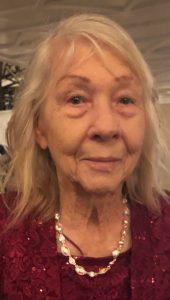 Josephine Neige Warn (90) of Hitchcock, Texas, passed away on Wednesday, October 6, 2021. She was born in Galveston on November 30, 1930 to Elizabeth and Ambrose Terrebonne. Josephine loved to go fishing and had lived in Hitchcock, all of her life.
She is preceded in death by her husband William Warn, her mother and father, daughter Betty Murray; sons: William Warn and Paul Warn; sisters: Elizabeth Terrebonne, Irene Rac, Margaret Callender, and Delores Terrebonne; brothers: Joseph Terrebonne – her twin, Terry Terrebonne, and Frank Terrebonne.
Josephine is survived by her daughter Lucy Dieringer (Joey); son Joseph Warn (Lee); sister Patsy Billiar (Mike); seven grandchildren: John Dieringer, III (Alyssa), Lisa Todd (Kris), Sheila Weatherly (James), Rhonda Henderson (Wayne), Cricket Warn (Sean), Walter Warn (Mary), Franklin Murray (Trish); eleven great-grandchildren and seven great great-grandchildren.
A visitation will be held on Monday, October 11, 2021 from 6:00PM-8:00PM at the James Crowder Funeral Home in La Marque. A funeral service will be held on Tuesday, October 12, 2021 at 1:00PM at the James Crowder Funeral Home in La Marque with an interment to follow at Galveston Memorial Park in Hitchcock.
Pallbearer will be Joey Dieringer, Joe Warn, John Dieringer, III, Anthony Jenkins, Jeremy Garza-Dieringer and Walter Warn.