Josephine Louise Reed – Bricker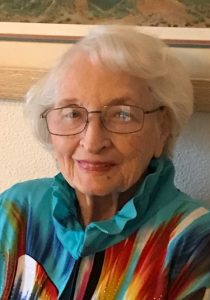 On January 30, 2023 Josephine Louise Reed – Bricker passed peacefully into the arms of our Lord at the age of 101 years, 8 months and 27 days.
Josephine was born May 3, 1921 to Lon and Vergie Greenwood. She was raised on the ranch that is now in the Nature Conservancy 22 miles south of Monument, Kansas where Lon was the ranch foreman. She was a graduate of Monument Consolidated School. On September 1, 1940, Josephine married Kenneth Marrion Reed. They had two chidlren, Marshall Lynn Reed and Judith Jo Reed (Sekavec) Getty.
Josephine was preceded in death by two husbands Kenneth Reed and Ronald Bricker and grandchild Gordon Blane Sekavec. She is survived by her two children and their spouses Marshall and Linda and Judith and Carlton. Four grandchildren, Kenneth and Becky Reed, Shirley and Gerald Kott, Christy and Rick Snyder and Rhonda and Tyler Windholtz. Two step-grandchildren Alex and Meredith Getty and Ginny and Frank Canales. Josephine had ten great-grandchildren, six step- great-grandchildren, and eight great-great grandchildren.
Josephine had been an employee of the Kansas Agricultural Stabilization and Conservation Service both local and State offices. She was a realtor and a long time antique dealer as Golden Oldies.
Josephine was a brilliant, creative, talented and loving person. She will be missed by all who knew and loved her.
In lieu of flowers, you may send memorials to Psalm 23 Home Care Facility, 204 Confederate Way, El Lago, TX 77586.