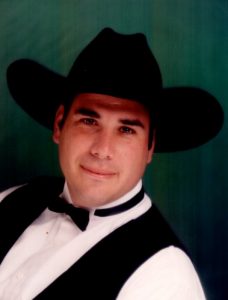 Joseph Zepeda Sr., 55, passed away peacefully surrounded by his family on Wednesday September 1, 2021 at UTMB Hospital in League City, Texas.  He was born on April 16, 1966 in Houston, Texas to John and Mary Zepeda.
Joey grew up in Bellaire, Texas, he was a resident of Hitchcock, Texas, and a resident of League City, Texas for the last 10 years.  He attended and played baseball at Ranger Junior College.  He worked for BNSF Railroad as a conductor for the last 24 years.  He loved sports and coached many baseball, softball and football teams for his children and nephews. Joey was also a volunteer firefighter for the city of Hitchcock. Joey was an avid hunter and fisherman, but he also just loved sitting on the front porch of his ranch in Rocksprings, Texas and enjoying nature.  The biggest joy of Joey's life was spending time with his children, grandchildren, family and friends.  He always believed in bringing his family together.  He was a devoted son, brother, husband, father, grandfather, friend, coach and mentor. He was loved by so many and will be missed, but never forgotten.
Joey is preceded in death by his father John Zepeda Sr and his younger sister Martina Zepeda.
He is survived by his loving wife and best friend of 31 years Tracy Zepeda, mother, Mary Zepeda, mother-in-law Shirley Kemmerling, his children: Brooke Clarke and husband Zachary Sr., Joseph Zepeda Jr., Brittany Perry and husband Nathaniel Sr., Thomas Zepeda and Jesse Zepeda, three brothers: John Zepeda and wife Rebecka, Jesse Zepeda and wife Jan, Paul Zepeda and wife Andrea, 4 sisters: Let Guzman and husband Ed Spinks , Pat Castillo and husband Ted, Judy King and husband Jeff Holmes, Mary Capistran and husband Joe, his grandchildren: Zoey Kaczmarick, Zaleigh Clarke, Bella Clarke, Zachary Clark Jr., Brayden Clarke and Nathaniel Perry Jr. and numerous nieces and nephews.
Visitation will take place at the Crowder Funeral Home, 851 FM 517, Dickinson, Texas 77539, www.crowderfuneralhome.com, 281-337-1515 on Wednesday, September 8, 2021 from 12 – 2pm.  Service will be officiated by Justin Hall beginning at 2pm.
Honorary Pallbearers will be Joseph Zepeda Jr., Thomas Zepeda, Jesse Zepeda, Zachary Clarke Sr., Nathaniel Perry Sr., Austin Zepeda, John Zepeda Jr., Jesse Zepeda, Paul Zepeda and Scott Fleming.
The Family would like to thank all the medical staff, doctors and especially the nurses a the UTMB League City for their compassionate care.
In lieu of flowers the family request donations be made to the League City Volunteer Fire Department.
Donations can be sent to:
League City VFD, 555 West Walker Street, League City, Tx 77573, Attn: Barry Eppley,
281-554-1465