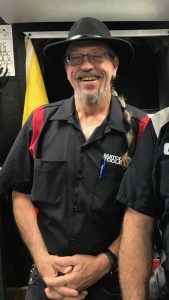 Joseph Kent Ray, of Bacliff, TX. was born February 11, 1964 in Washington, D.C. He passed away on May 10, 2021 at the age of 57.
Kent proudly served his country in the U.S. Marine Corp.
He was a mechanic for 30 years, and recently became a distributor for Matco Tools. His time with Matco Tools being the happiest he had been with a job, smiling more on a regular basis than ever before.
Kent had a passion for drag racing. He built and modified bikes for racing. He was also an active member of the Pistola's Motorcycle Club.
Kent is survived by Cyndi, his loving wife of 25 years. He also leaves behind his mother, Susan Murfee Ray; step-mother Judith Ray; a daughter, Staci Arce; a brother, Steve Ray and wife, Regina; and four grandchildren, Miquel Arce, Chrystian Arce, Morgan Arce and Dante Arce.
He was proceeded in death by his father, James Rendal Ray.
In his honor a visitation will be held, Saturday, May 15, 2021 from 5:00pm until 8:00pm in the Crowder Funeral Home Chapel, Dickinson, Texas.