Joseph "Joe" John Schiro Jr.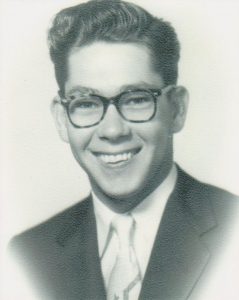 Joseph "Joe" John Schiro Jr., 80, passed away January 12, 2018 in Houston, TX. Joe was born April 8, 1937 in New Orleans, LA. He was a resident of Pearland, TX since 2005 and formerly of Chalmette, LA.
Joe graduated from Francis T. Nicholls Senior High School in New Orleans in 1955. Joe proudly served his country in the U.S. Marine Corp.
Joe worked as a Lineman in Chalmette and New Orleans, LA, he retired after twenty seven years of service with Bell South Telephone Company. Joe was an honest hard-working dedicated man.
Life presented him with many challenges which he met with strength and courage. It was often said he had "nine lives" as he made it through an almost fatal work accident in his 20's, a car accident in his 60's and Hurricane Katrina. He was a survivor and persevered always putting the needs of others first.
His passion was his family who he unselfishly devoted all of his time and energy. He was a loving and loyal husband, a dedicated and fiercely protective father and a proud kind-hearted grandfather who absolutely adored his two grandsons, Mathew and Ryan. He loved his sister Irene, godson Tony and niece Julie.
When he retired, he enjoyed spending time at home with family, attending his grandchildren sporting events and monitoring their achievements in general.
Joe was a very intelligent man of integrity who liked to debate about the news, politics and the changes occurring in the world in general. He was also known to have a sense of humor affectionally making jokes or giving nicknames to family members.
Our hearts are crushed and the emptiness is there. His years with us although many, will never be enough. We remained blessed and proud to have been given the gift of him as our "Daddy" and love him all the world.
Mr. Schiro is preceded in death by his parents Joseph Schiro, Sr. and Helen Schiro.
Joe leaves behind his wife of fifty seven years, Jeannette Schiro; daughters: Jeannine Diaz (son- in-law Kent) and Dorene Schiro; grandchildren: Mathew Diaz, Ryan Diaz and Louie; sister, Irene Walz; nieces: Julie Bayhi (husband Richard) and Terry Lisa Johnson (husband Kirk); nephew, Michael Bauer; godsons: Tony Walz (wife Aida) and Michael Sheasby; great Niece, Rachel Reilly (husband Matthew); brother-in-law, Donald Simmons (wife Tee); and a host of nieces, nephews, cousins and friends.
There was a private viewing January 15, 2018 at Crowder Funeral Home in Pearland, TX.
A memorial service will be held at a later date in Louisiana.