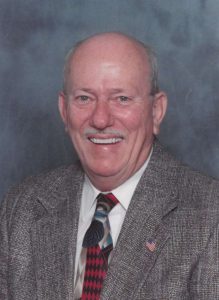 Joseph Ignatius Johnson, 86 of Dickinson, TX, passed away Sunday, July 7, 2019.
Joseph was born to Joseph Lawrence Johnson and Isabel Mary Johnson, September 12, 1933, in Galveston, TX.  He graduated from Kirwin Catholic High School in 1951.  Joseph proudly served his country in the United States Navy.  Joseph I. Johnson and Leona Schlegel were united in marriage in 1953 and they lived together in La Marque, Texas for 40 years, and then moved to Dickinson, TX.
Survivors include his loving wife of 63 years, Leona Johnson, his three children: Lorelei Catherine Stanton, Mary Ellen Johnson and Jolene Annette Stapleton.  He also leaves to cherish his memory four grandchildren, 5 great-grandchildren, and his beloved dogs, Millie and Suzie.  His children remember him as a Loving Devoted Father.
He was preceded in death by father Joseph Lawrence Johnson mother Isabel Mary Johnson, brother Thomas J. Johnson and wife Evelyn Johnson.
Joseph was a switchman and plant assigner at South Western Bell Telephone Company for 36 years until he retired.  He served as Vice President of CWA Local 6236.  After his retirement Joseph was employed by the Knights of Columbus for 16 years.  He proudly served as Grand Knight of Counsel 5336 of La Marque, Texas for 2 years.  He was a long-time member of Queen of Peace Catholic Church in La Marque, Texas.  He was also a longtime volunteer at Mainland Medical Center Hospital.
A Memorial Service will be at 10:00am on Tuesday, July 16, 2019 at Queen of Peace Catholic Church in La Marque, Texas with Father Chacko Puthumayil officiating. Memorial in form of donations may be made to Queen of Peace Catholic Church in La Marque, Texas or Hospice Care Team.