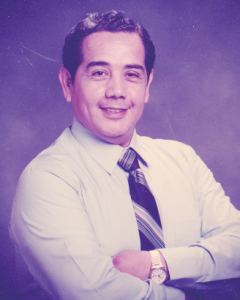 Jose V Gomez went to be with the Lord on May 4, 2019. Born in Houston, Texas to Jose V Gomez and Providence Cortez. Jose served in the Air force and attained the Rank of Sargent; He retired from the rail road. Jose Attended San Pablo Trinity Presbyterian Church and served in the church.
He is preceded in death by his father Jose V Gomez and mother Providence Gomez and his sister Gloria Gomez. He is survived by his brother Jesse V Gomez, sisters Mary and husband Mike Himmo, Josephine H. Ford and Olivia Cortez and aunt Paula Cortez and nephews and nieces.
Visitation will be held on May 7, 2019 at 11 to 12pm. At 12pm a service will be held at Crowder Funeral Home chapel at 111 E. Medical Center Blvd, Webster, Texas 77598. Thereafter Internment will be at Brookside Cemetery, 13747 Eastex Fwy Houston, Texas 77039.