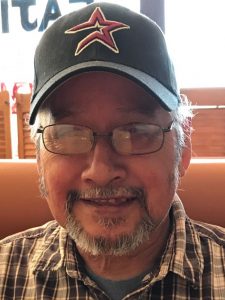 Jose Cruz Cortez, 76, of Pearland, TX, passed away at his home on October 13, 2017. He was born on August 27, 1941 in Los Fresnos, TX to Modesto and Concepcion Cortez. Mr. Cortez has been a resident of Pearland since 1973 and was a member of St. Helen Catholic Church. He retired from Pearland Industries after 35 years of service. 
Mr. Cortez is survived by two daughters: Belinda Cortez Papadakis and her fiancee Michael Moncibiaz, and Elisa Cortez; two sons: Jaime Cortez and Eloy Cortez and his wife Daizy; grandchildren: John Papadakis and his wife Yasmin, Josef Papadakis and his fiancee Scarlett Flores, Lisette Cortez, Aubrie Cortez and Avery Cortez; one great grandson, Adan Papadakis; sister, Maria Elena Ibarra; brothers: Domingo Cruz Cortez and Epifanio Cruz Cortez. 
He is preceded in death by his parents Modesto and Concepcion Cortez; brothers: Toribio Cortez, Macario Cortez, Inez Cortez, and sister Guadalupe Trevino and his loving wife of 44 years, Guadalupe Cortez.
There will be a visitation on Thursday October 19, 2017 beginning at 10:00 a.m. at St. Helen Catholic Church, followed by a Funeral Mass at 11:00 a.m. Interment will be at Southpark Cemetery.
Pallbearers serving will by Jaime Cortez, Eloy Cortez, John Papadakis, Josef Papadakis, Alfred Rangel and Michael Moncibaiz.