Jose Antonio "Tony" Gonzales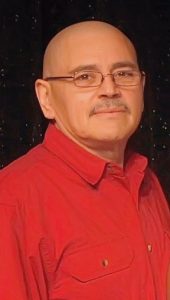 Jose Antonio "Tony" Gonzales, 59, was born November 7, 1958 in Kingsville, TX and passed away November 17, 2017. Tony was a life-long resident of Houston, TX and he worked for twenty-five years for Drago Supply in LaPorte, TX.
He is preceded in death by his parents, Ambrosio and Elida Gonzales.
Tony leaves behind his sisters: Maria Guadalupe "Lupe" Gonzales, Maria Socorro "Cookie" Orosco, husband Daniel, Maria Teresa "Terri" Rodriguez, husband Robert, Rhonda Swinney, husband Kyle, Beverly Cokonougher, husband Brian; nephew: Ernest Trevino, Michael Rainey, wife Stephanie, Andrew Rainey, Jeffery Swinney, wife Samantha and Jason Swinney; nieces: Alicia Trevino and Brianna Cokonougher; aunts: Manuela Wilson, Dalia Dominguez, husband Joe, Maria J. Salinas, husband Carlos, Maria F. Gonzalez, Esther Gonzalez, Mary Lou Pena and Ofelia Pena; and numerous cousins.
There will be a visitation Tuesday, November 21, 2017 at 10am at Crowder Funeral Home, 2422 Broadway Pearland, TX 77581 with a funeral service to follow Tuesday, November 21, 2017 beginning at 12pm.
Family request in lieu of flowers please send memorial donations to: ASPCA www.secure.aspca.org or American Diabetes Foundation, 2451 Crystal Drive, Suite 900 Arlington, VA 22202, www.donations.diabetes.org