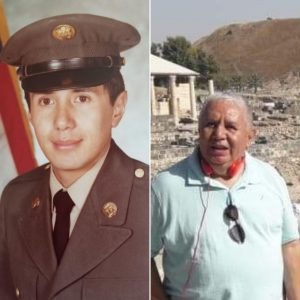 Jorge Vidangos Sr., a resident of Manvel, TX formerly of Springfield, VA passed away in peace on June 18, 2019. Jorge was born July 21,1949 in Bolivia and was of the Catholic faith. Jorge proudly served in the U.S Army during the Vietnam War and was employed with the United States Department of Agriculture in Washington D.C for 35 years.
Jorge reunites with his son, Jorge Andres Vidangos, Jr.
Jorge leaves behind to cherish his memories, his wife of 36 years, Jeannette Vidangos; daughter, Alexis King, husband, Celestino Gomez Jr.; grandchildren: Seleste Gomez and Celestino Gomez III; sisters: Patricia Vidangos and Roxana Ockenfels. Also, many loving nieces, nephews and extended family.
Jorge was a loving father, husband, grandfather, and friend to everyone.
He was able to dance and sing with the best of them. On two different occasions, along with his son, he danced and sang in a Washington, DC parade honoring Bolivia. In addition to his love of music, he was always doing what he could to attend concerts such as Carlos Vives, Carlos Santana, Mana and many more.
There will be a visitation 1:00 p.m. Saturday, June 22, 2019 followed by a funeral service to begin at 2:00 p.m. at Crowder Funeral Home, 2422 E. Broadway St, Pearland, TX 77581.