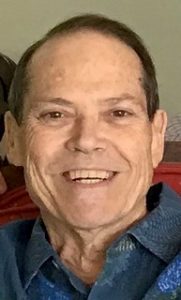 John Robert Fisher, 70, of Dickinson, Texas, passed away peacefully in his home on May 9, 2017.  Bob was born to Ena and John Earl Fisher on December 26, 1946 in Duncan, Oklahoma, and grew up in the Canal Zone, Panama.  He graduated from the University of Oklahoma with honors before proudly serving his country in Vietnam as a Captain in the U.S. Army, 101st Airborne, Artillery division, and as a General's aide.  He returned to OU for law school, was named Editor of the Law Review, and remained a lifelong fan of his school, as evidenced by his extensive OU wardrobe.  Bob practiced for 32 years with the Winstead law firm, where he was a partner, and retired from Camden Property Trust as Senior Vice President and General Counsel.  He was a devoted member of the congregation and a layperson at Holy Trinity Episcopal Church in Dickinson. Bob spent many happy hours on the water as captain of his boat and was an accomplished cook; his friends and family always coveted an invitation to his table.  He pursued his other hobbies with equal passion, finally discovering a love for the RV life and exploring the Texas hill country and beyond with his wife and close friends.
Bob is survived by his loving wife of 27 years, Monica Fisher; children, Jennifer F. Ranno, Katherine L. Rolle and husband Fred, Andrew R. Fisher, and Rebecca J. Strong and husband William; sister Toni Millard; brother Dr. David Fisher and wife Karen; grandchildren Caroline, Whitney, and W. Fisher Strong, Reese and Olivia Ranno, Tripp and Charlie Rolle, and Shanna and Alaina Swardson; and numerous cousins, nieces, nephews, and friends.  Bob was preceded in death by his parents and his stepson, Matthew R. Melton.
A funeral service will be held at 4:00 pm this Friday, May 12, 2017, at the Holy Trinity Episcopal Church, 4613 Tx Hwy 3, Dickinson, Texas, followed by a Celebration of Life event.
In lieu of flowers, the family asks that donations be made to the Bladder Cancer Advocacy Network (BCAN), 4915 St. Elmo Drive, Ste. 202, Bethesda, MD 20814.