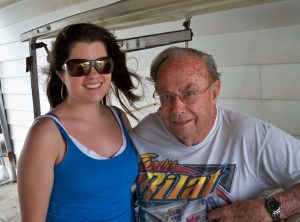 John McKinney, 93,  of Galveston passed away peacefully at his home on Sunday, June 21, 2020.
He was born June 4, 1927 in Des Moines, Iowa to Claude and Etoulle McKinney.
John lived in Galveston most of his life.  When he turned 17 he volunteered with the US Army during WWII, spending time at the Aberdeen Proving Grounds, Philippine Islands, and Tokyo. Once out of the military he worked with his father, and became deeply involved in every form of motor sport available. He raced motorcycles (Harleys) cross-country and on dirt tracks, dirt track stock cars and midgets, then moved on to road racing becoming a nationally ranked competitor with the SCCA. 1966 marked his last year with the SCCA, when his growing business demanded more of his time. By now, he had started the original Standard Auto Parts in Galveston with Warren Honey at 56th & Broadway. Later, he acquired the property across the street at 5517 Broadway, opening a garage and a Triumph & Volvo new car dealership. Later he added Toyota, and dropped the Triumph & Volvo brands, under the name of Standard Toyota of Galveston, later changing the name to Toyota of Galveston, which he operated through the mid-eighties. During this time he also opened Galveston Auto Salvage & Wrecker Service at 7220 Broadway.
His passion in life was racing with his son David McKinney. He formed the Galveston County Buggy Club with many other local dune buggy racers, eventually racing off-road across Texas, Louisiana, Oklahoma and Kansas. In 1978 David saw the World of Outlaws Sprint Cars for the first time at Big H in Houston, and it wasn't long until McKinney Racing Ent.s was out of the off-road business, and in to dirt tracking. Together, John with his son David and Mike Plowman driving the team cars, raced Winged Modified/Skinny Cars, Super Sprints, Outlaw Sprint Cars, Stock Cars, Super Stocks, IMCA Modified, Dwarf Cars, and EMSA Sportsman Mini-Sprints.  John was the person responsible for bringing the first Dwarf Cars to Texas in the late eighties after Chris Duoto discovered them on one of his trips to the Phoenix Motor Speedway. John helped many racers and track promoters behind the scenes, just because he truly loved racing and racers. The racing community is a huge part of the McKinney family.
He is preceded in death by his parents, his wife Nancy McKinney, sister Peggy McKinney and brother Monty McKinney.  John is survived by his son David McKinney granddaughter Amanda Muery and great grandson Owen Patrick Muery.
A visitation will be from 3:00pm-5:00pm on Monday, June 29, 2020 at the James Crowder Funeral Home in La Marque.