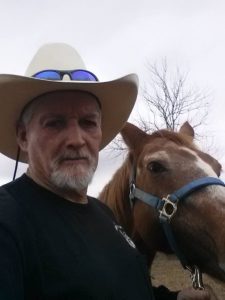 John Henry Clinkscales, 64, passed away on August 16, 2019 in Houston, TX. John was born October 29, 1954 in Houston, TX. Mr. Clinkscales was a resident of Pearland, TX but formerly a longtime resident of Houston. He was employed with Bay Area Electric for 14 years and attended New Hope Church.
John is preceded in death by his parents, James and Annie Clinkscales, and his brother James Thomas Clinkscales Jr.
John is survived by his daughter, Amanda Estrada, wife Marie; son, John Clinkscales, wife Melanie; grandchild, Asher Clinkscales; sister, Threisa Clinkscales; brother, Glen Clinkscales; nieces: Jessica Munoz, Leah Clinkscales, Tiffany Clinkscales; nephew Bryan Clinkscales.
John lived life to the fullest, from horseback riding with his daughter, Amanda, and going on trail rides, to riding his Harley down to Galveston to go sailing. One of his most memorable memories is when Amanda, her brother, John, and their father went on a trail ride and planned to have shrimp creole for dinner. Little did they know little John got the wrong rice, and they ended up eating some very crunchy shrimp creole.
John was a very loving and playful man. He would give anything and everything for his loved ones. He will be greatly missed by all, and we know he is in Heaven with his parents and brother.
There will be a visitation 5 p.m. to 8 p.m. Tuesday, August 20, 2019 at Crowder Funeral Home 2422 E. Broadway St. Pearland, TX 77581.  Funeral service will be at 10 a.m. Wednesday, August 21, 2019 at Crowder Funeral Home in Pearland, with burial to follow at Southpark Cemetery.
Pallbearers serving will be Amanda Estrada, John Clinkscales, Bryan Clinkscales, Barbara Gomez, Matt Dunaway and George Simon.