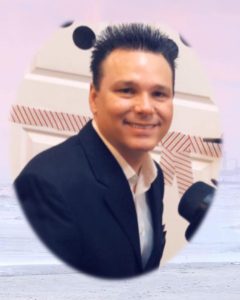 John Eric Kinsey
April 9, 1970 – December 26, 2022
John Eric Kinsey was born the youngest of three sons to Anne Neal Kinsey and Richard Kinsey on April 9, 1970, in Columbia, South Carolina.
John started his career with the Macy's Family (Riches/Davison's) on August 18, 1994, in Columbia, South Carolina. John moved and accepted numerous promotions throughout his career path. In 2001, that path led him to move to Atlanta to open a brand-new store at Stonecrest Mall in Lithonia, Georgia as store manager.  It is at that time where he met and hired his future wife.
John married his best friend Marissa Fodera Kinsey on September 15, 2007, shortly before moving to Kemah, Texas where John had accepted the position of store manager at Macy's at Baybrook Mall, in Friendswood, Texas.  John was devoted to Macy's and all his employees.  He remained in close contact with many who left to work elsewhere.
John was a loving father to his only child; his six-year-old daughter Kaylee Anne Kinsey. Kaylee is the spitting image of John, as well.   She was the apple of John's eye. He was and will always be Kaylee's hero.
John leaves behind his wife Marissa, together 21 years, daughter Kaylee, mother & father-in-law Vince and Betty Fodera, and 2 shih tzu puppies Charlie and Emma; his father Richard Kinsey, brother and sister-in-law Gary & Rose Kinsey, his Aunt Sherry (Kenny) Fuller, and Cousin Kendall Fuller all of which reside in South Carolina. Uncle Bob (Dotti) Bala of Conyers, Georgia; Uncle Michael (John) Bala of California; Cousins Laura (Chuck) Adamson, Shawn (Becky) Bala, Kathy (Tiger) Bragg, Brady (Shayna) Bala. and a host of cousins and other family and friends who will greatly miss him.
John was proceeded in death by his mother Anne Neal Kinsey, eldest brother Richard Kinsey Jr., his maternal and paternal grandparents, as well as fur babies Abby and Harley, Grandma Bick (Dorothy Bickford) and our cool cousin Dillon Bragg, who we are sure greeted him at he gates of Heaven with Jesus.
John's family will have a visitation Wednesday January 4, 2023, from 5pm-7pm. at Crowder Funeral Home in League City located at 1645 East Main Street, League City, TX 77573.
His funeral service will be held Thursday January 5, 2023, at 10 am at Bay Area Church, located at 4800 West Main Street, League City Texas 77573.
Graveside Service and Burial to be held separately at Greenlawn Memorial Park in Columbia, South Carolina.
The family asks in lieu of flowers, memorial contributions be made, if desired, to a college fund that has been set up for Kaylee. Donations can be made at the following link:  https://gofund.me/6df9ba3d
On behalf of the family, Thank You, for the outpouring of love, prayers, and support from the community.  It has been amazing to watch and is deeply appreciated.  Please continue to pray for Marissa and Kaylee as they process this very heartbreaking tragedy and learn to live without John.