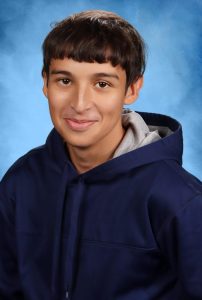 John Edward Davila, 16, a lifelong resident of Sagemont, TX, passed away suddenly on January 14, 2023. John was born on December 14, 2006, in Houston, TX, and was baptized into the Catholic faith as a toddler.  A student at Dobie High School's Ninth Grade Center, John was also a huge lover of baseball, cheering on the Astros and playing in many teams in the Southbelt. He was currently playing on the Hornets Select Baseball team.  A very good athlete and an excellent pitcher, his dream was to one day play professional baseball in the major leagues.
In September 2019, John was preceded in death by his older brother, Richard "Rick" Davila.
John leaves behind his parents, Darlene and Carlos Davila; sister, Alicia Davila; sister-in-law, Esmeralda Davila; brothers: Carlos Davila, Jr., wife Deana, and Jerry Davila, wife Carrie; nieces and nephews: Veronica Jones, husband Eric, E.J. Garcia, husband Danny, Jessica Davila, Alec Davila, Noah Davila, Aiden Davila, and Sadie Davila; great niece and nephews: Audrey Jones, Owen Jones, Sabastian Jones, Gabriel Garcia, Elijah Garcia, and Xavier Franco; grandmothers: Emma Bergeron and Gisela Villagarcia; aunts and uncles: Pablo and Sheila Castellano, and their children Deanna, Maya, and Arianna; Debra Boitman, Evangelina Hochstetler, husband Johnny, Hope Trent, Teofilo "Buddy" Davila, wife Tina, Joe Davila, Linda Sotuyo, husband Ernest, Henry Davila, wife Velma, Coki Barrera, Bobby Davila, Chris Padilla, husband Mario, Oscar Davila, Mary Villarreal, husband Rene, Peter Davila, wife Francis, Cynthia De Alejandro, husband Bobby, and Michael Davila, wife Delores and a host of loving cousins and dear friends.
A visitation will be held on Sunday, January 22, 2023, from 5 p.m. to 8 p.m., with a rosary at 6 p.m., in the chapel of Crowder Funeral Home in Pearland. Mass will begin Monday, January 23, 2023, at 11 a.m. at St. Luke the Evangelist Catholic Church in Houston, TX. Burial will follow at Forest Park East Cemetery in Webster, TX. There will also be a reception following the interment at Clear Lake United Methodist Church for those who would like to attend.
Pallbearers will be: Alicia Davila, Deanna Castellano, Hector Fasci, Diego Torres, Ricky Solis, Xavier Almendarez, Aiden Chaves, and Theo Melillo.
In lieu of flowers, please make donations to the Southbelt Baseball League.