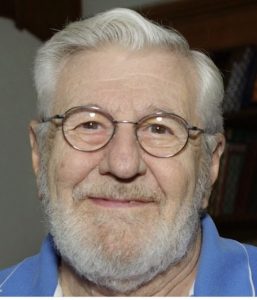 John Edmund Carrow, age 91, passed away on January 26, 2023, in Houston, Texas. He was born on August 14, 1931, in Minneapolis, Minnesota to Edmund and Alberta Carrow. Eileen, his wife of 44 years, preceded him in death. He is survived by his second wife Katherine White.  He is also survived by his daughters, Kristine Kissell (Brian), Patricia Cowen (Perry – deceased), Kathryn Kouts (Robert), and Susan Donnelly (Brian);  sisters, Nan Davidson and Jane Bowers; brother Joel Carrow; grandchildren, Kimberly Kissell, Joel Kissell, Mark Kissell (Krystal), Phillip Kissell (Gary), John Lanier (Kym), Rebecca Donnelly, and Taylor Kouts (deceased); great grandchildren, Logan Kissell, Caleb Kissell, Araceli Kissell, and James Lanier.
When his nation called, he answered by joining the Army.  He earned a Bachelor's Degree from University of Minnesota and worked as a Chemical Engineer for U.S.I. – National Distillers.  He had a passion for photography and technology and enjoyed traveling and painting.
 In lieu of flowers, those wishing to make a memorial donation in John's memory may do so to an organization of their choice.