John Calvin Ryan, Jr. (J.C.)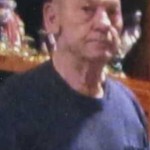 John Calvin Ryan, Jr. (J.C.), 81, fourteen year resident of Santa Fe, Texas, passed away February 2, 2014 at Mainland Medical Center Hospital in Texas City, Texas. He was born October 18, 1932 to parents John C. and Arthemise Mamie (Simon) Ryan in Galveston, Texas.
J.C. graduated from Ball High School in Galveston, Texas. He joined the Army, got a Medical Discharge, and went on to college to receive his teaching degree, then became a football coach and also taught History. J.C. then climbed the ladder to success and became a school Principal. He retired in 2000 from Administration.
He was preceded in death by his parents, and brother, Walter L. Ryan Sr.
J.C. is survived by his sister-in-law and caregiver, Joan Ryan, extended family members include his niece Angela Pizzitola (Edward) and her family; nephew, Walter L. Ryan, Jr. (Cathy) and his family; cousins, O.J. and Steve Broussard and their families; five nieces and six nephews.
Special forever friends include Clara Adair, Luther Edwards, Welton Gossett, and Sheila Davis. He will be greatly missed by his loving pet, Hildy.
J.C.'s family will receive friends and family from 5 p.m. – 8 p.m. Tuesday February 4, 2014 with a Rosary at 7 p.m. at Crowder Funeral Home in Dickinson, Texas.
A graveside service will be held at 10 a.m. Wednesday, February 5, 2014 at Mt. Olivet Cemetery in Dickinson.
J.C.'s family wishes to express their appreciation to Scott Brantley and Allan Graves for their kindness and tender loving care and support.