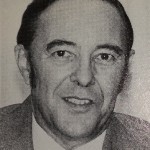 John C. Weitekamp
May 31, 1926 – October 21, 2014
Aerospace Pioneer
On October 21, 2014 John C. Weitekamp, 88 years of age, of Clear Lake City, Texas passed away, surrounded by his family. Loving Husband of Frances, his wife of 65 years, and Father of 10 Children, John, Michael, Carolyn (husband Joe Mancuso), Mark, Patricia, the twins, Robert & James, Mary (husband Charles Angele), Joan and Judy (husband Kenny Cleveland). He was Grandfather of 17, and Great Grandfather of 11. He was an avid tennis player and enjoyed tending his meticulously kept gardens. His love of Jazz and devotion to the local performances of the Houston Jazz Community, gave him incredible joy, particularly after his retirement. He had a broad selection of all genres of Jazz on his iPad and would play it in his office as he worked.
His family learned very quickly that his job as an Aerospace Engineer with McDonnell Douglas would occupy much of his time. As Project Leader of the development of the F-4 fighter jet, he was responsible for the design of the fuselage of this jet which was the first plane to be able to fly at Mach
2.2. He was always quick to say that he headed the team, and wanted to be certain that the other engineers were recognized as well. The F-4 Fighter Jet was the primary jet utilized by all branches of the United States Military from the late 1950's until the end of the First Gulf War! Remarkably, this task was accomplished with mathematical calculations done by hand and a slide rule!
When McDonnell Douglas was awarded the contract by NASA to design the first Space Capsule to be able to not onlysuccessfully launch into space, but to be able to return the Astronaut safely back to earth, John was assigned the project, and Mercury was born. Its success was celebrated around the world! It was followed up with the Gemini Capsule. The engineering demands of these projects were enormous, coupled with the intense pressure of the Space Race.
Chuck Jacobson of McDonnell Douglas summarized John's accomplishments when John was selected as an MDC Fellow, by Mr. Marvin Marks, the Corporate Vice President for Engineering and Research. This accolade was announced as a "very high honor for one of our teammates".
The criteria for a fellow candidate are that he or she should have a history of outstanding and sustained technical performance and accomplishments, with particular skills and productivity in a highlyspecialized field or item of development. A memo from Mr. Marks confirmed that the Selection Committee approved John Weitekamp to the position of Staff Manager, MDC Fellow. This distinguished technical achiever was selected from a group of 12 nominees and was honored in ceremonies later in the year.
At the ceremony the new fellow, John Weitekamp from MDTSCO-Houston
was awarded the MDC Founder's Medallion and a monetary honorarium. He became one of fifteen members of the Fellow Program, and this is out of a population of 15,600 in the MDC Engineering and Research organizations!
McDonnell Douglas honored our husband and father with a synopsis of some of his accomplishments: "John Weitekamp joined the McDonnell Aircraft Corporation in January 1949 as a Flight Test Engineer and in 1952 he transferred to Aerodynamics where he's had and continues to have a distinguished career. For example, here are some of his achievements:
• On the F4H Aircraft Program, he was instrumental in developing the selected aerodynamic configuration during its advanced design. In addition, he correctly predicted superiority of low horizontal tail location which was later verified by wind tunnel testing.
• On the Mercury and Gemini Spacecraft Program, he was largely responsible for the design, development and successful qualification of the launch, escape and recovery systems.
• He was awarded a cash bonus by J.S. McDonnell for his personal contributions to the success of the Mercury Spacecraft Program.(less than 10 persons received such recognition.)
• On the Space Shuttle Program he managed the MDTSCO-Houston support to NASA-JSC in the area of Flight Performance. He has been responsible for many aerodynamic and trajectory analysis innovations used by NASA and the prime contractor.
• He was appointed to, and continues to serve, as a member and MDTSCO-Houston Representative on the "Ascent Flight Integration Group" which directly supports the NASA-JSC Space Shuttle Program Office.
• In this role,
 he was responsible for development of an integrated system of analysis techniques to resolve aerodynamic, trajectory, environmental, and structural interactions associated with the Space Shuttle Launch System.
 He was responsible for development and unique analysis techniques for determination of Space Shuttle ascent trajectory shaping requirements of allowable flight envelopes: and
 He was responsible for development of unique analysis techniques to permit post-flight extraction of aerodynamic characteristics of mated elements which make up the Space Shuttle launch system. These techniques were used by NASA and the prime contractor of the Shuttle Program.
• He was also appointed a charter member of the "Launch Systems Evaluation" Advisory Team.
• He has of course, received several Space Shuttle Awards by NASA in recognition of his personal contributions."
These are just a few of his accomplishments. So much of his professional life was spent on classified projects that no one will ever be able to truly know the depth and breadth of the scope of his contribution to the Space Program. His awards and the mementos given to him by the various astronauts, commemorating their flights will always be treasured.
But collectively as his family, our pride in his participation in the Aerospace Industry will always be a part of his legacy and will be shared with future generations.
However, he was Mom's loving husband and father of our tribe, and to us he was Dad, Grandad, and Great Grandad. The void in our lives will be filled for each of us with our fond memories. Now as we get ready to say goodbye to our "Rocket Scientist", we will always hold him in our hearts and minds. Thanks Jack – Dad for the many memories! We love you~
A Memorial Mass at St. Bernadette Catholic Church will be held for John – date to be determined.
In lieu of customary remembrances, for those desiring contributions in John's memory, they may be directed to Houston Hospice, 1905 Holcombe Blvd, Houston, TX, 77030-4123.