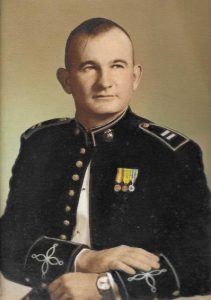 John Beverly Hendricks
1939 – 2023
From being born at home on a farm in Douglasville, Texas to serving his country in the United States Marine Corps for almost thirty years, John ended his life's journey on March 9, 2023.
He is survived by Pat, his wife of sixty-one years, his son Christopher and his wife Elsa, his granddaughter
Carrie and husband William Helm, his grandson James and wife Haley and great grandsons, Liam, John, Jack and Cole. He is also survived by his sisters Mary, Martha, Suzanne and Sara and numerous nieces and nephews. He was predeceased in death by his parents Noah Hendricks and Rena Johnson Hendricks and son Stephen Patrick who passed away in 2011.
John graduated from Kirwin High School in Galveston in 1957 and Texas A & M in 1962 He later earned his master's degree at Redlands University. John was commissioned a 2nd lieutenant in the USMC and attended Officer's Basic School in Quantico, Virginia immediately after graduation from A&M. Two tours in Vietnam were among his many tours of duty. He also fought in the Mayaquez Incident in 1975 in Cambodia.
After leaving the service, he became Vice President of Finance and Administration at Texas A&M
Galveston for six years. He was recruited to be the Executive Director of the Texas State Aquarium in
1991 and moved to Corpus Christi for six years. He then accepted a position as Executive Director of the Akaska Sealife Center in Seward, Alaska. He returned to Texas and worked for the Harris County Medical Society, retiring in 2008.
After retirement he volunteered at the Armand Bayou Center and Meals on Wheels. He also played tennis several days a week with friends of almost thirty years. He enjoyed cooking and gardening. Most of all he enjoyed spending time with his great grandsons.
There will be a memorial at a later date for family and friends.