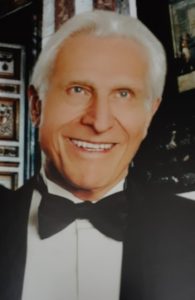 John Alfred Wenck, Jr. died peacefully at home Thursday, February 3, 2022.  As was John's normal style, he was aloof to the long-term physical difficulties and was able to maintain alertness and his incredible positive attitude up to the end.
John was born October 9, 1939 to Ida Irene Perry Wenck and John Alfred Wenck in Houston, Texas and is survived by his wife Vonnie Wenck, siblings Maryann Lemmon, Charles C. Wenck, and Frances E. Thames as well as, his daughter, Susan Wenck.
After graduating from Spring Branch High School in 1957, John continued on to graduate from the University of Houston during which time he joined Delta Chi Fraternity. His career started with US Steel and then on to Grant Corporation/Weatherford.  John's career focused on international business and accordingly, he traveled the world.
Throughout his life, John was an exercise fanatic, going every day to the gym.  John was gregarious and fun-loving with a personality that endeared him to so many whose life he touched.  He is both loved and will be missed by all who knew him.