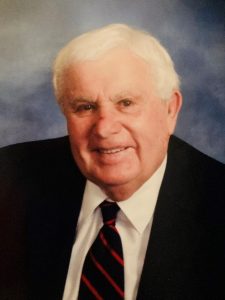 John A. Koerschner, 91, "Flew West" on April 16, 2023. John loyally served his country for twenty years in the U.S. Air Force. He volunteered during the Korean War and flew the F-86 Sabre Jet, a highly regarded super-sonic fighter plane of that era. As Aircraft Commander in Viet Nam/South East Asia, he flew more than 1300 combat hours in the C-130 Hercules. During his illustrious service, he was awarded numerous citations including The Distinguished Flying Cross and The Air Force Air Medal with six Oak Leaf Clusters. While in the Air Force, he completed his education graduating with a double major in Business Administration and Economics.
After military service, John moved his family to Houston where he flew for Metro/American Eagle Airlines. The only two jobs John had in his adult life were flying airplanes; he would frequently mention that he had had the best of two lives. After retiring, he became a full-time golfer, often playing five or six rounds a week. He made many friends in the golfing community at Bay Oaks Country Club and The Bay Oaks Old Boys Society AKA "BOOBS". John also enjoyed bicycling; when he was 75, he, with two of his sons-in-law, completed the rigorous MS 150. At age 80, he fulfilled his bucket list by learning to SCUBA dive.
John was a long-time member of the Knights of Columbus and a Past Grand Knight of The Bay Area St. Bernadette Council 10959 as well as Fourth Degree member of Fr. Titus Brandsma Bay Area Assembly 2772.  A committed Catholic, he was one of the founding members of St. Bernadette Catholic Church where he served two terms on the Pastoral Council and was a willing volunteer for many other church related ministries. John regularly attended daily mass, prayed his rosary every day, and was accountable for the weekly Adoration of The Blessed Sacrament each Wednesday during the 4:00 pm hour and repose at 6:00 pm.
John was born November 15, 1931, in Cudahy, Wisconsin, the fifth of eight children to Edward and Hilda Koerschner. He married Carol Lewis of Stevens Point, Wisconsin in 1960. They had four children; Carol succumbed to cancer in 1986. In 1988, John married Mary Jeannette Vetter.
John is preceded in death by his parents, his first wife Carol, and his oldest daughter Barbara (Bill) Hagey, his brother Ed, and his sisters Ann Grede, Rosemary Higgins, and Loretta Plevak.
He is survived by his second wife Jeannette; his children John F. Koerschner, Ann (Phil) Prasek, and Molly (Tim) Church; his stepchildren Jim (Sherry) Vetter and Barbara Vetter; and his grandchildren Carolee and Ella Hagey, Nathan and Joseph Prasek, and Daniel, Sean, and Megan Church. Coming from a large family, John is also survived by relatives all over our great and wonderful land.
John was a steadfast, devoted, honorable, and loving husband and father and a good and faithful servant who put his faith and family above all. (God, Family, Country) He will not be forgotten.
The family will receive friends for visitation from 5 p.m. to 8 p.m. on Friday, April 21 at Crowder Funeral Home, 111 E. Medical Center Blvd., Webster, Texas 77598. A funeral Mass will be held on Saturday, April 22 at St. Bernadette Catholic Church at 10:30 a.m. with a reception and interment following.
In lieu of flowers the family requests donations be made to Knights of Columbus St Bernadette Bay Area Council 10959 or Fr. Titus Brandsma Bay Area Assembly 2772 and sent to K of C Council 10959, PO Box 590673, Houston, Texas 77289.