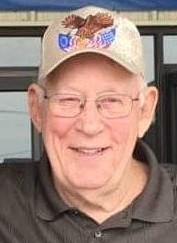 Joe W. Robinson, Sr., 79, resident of Dickinson, Texas, passed from this life, Saturday February 22, 2020, surrounded by his family & friends. He was born October 14, 1940 to proud and loving parents, Entis Gastin & Exa Inez Robinson. He was owner of Whites Home & Auto in League City, TX for 26 years. In 1995, he moved his business to his hometown of Dickinson, TX and changed the name to Robinson Auto Center. It remains in operation to this day under his son's direction.
Joe was preceded in death by his parents, and his brother Coy Ray Robinson.
He leaves to cherish a lifetime of memories, his loving wife, Nancy Robinson; two daughters, Kathryn L. Porter, and Gayla M. Lind-Olson; sons, Joe W. Robinson Jr., and Dwayne L. Robinson; nine grandchildren; three great-grandchildren; numerous nieces and nephews as well as many friends.
In his honor a visitation will be held Friday, February 28, 2020 starting at 11 AM with a funeral service following immediately at 12 noon at the New Life Praise Center. Interment will follow at Forest Park East Cemetery Webster, Texas.