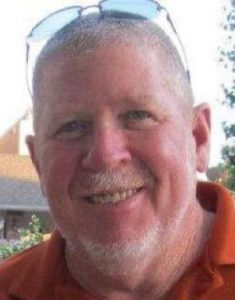 Joe "Topper" Allen Moet, age 71 of League City, passed away on Tuesday, August 8th 2023.
He was born January 29th,1952 in Harlingen, Texas to Joe "Tops" Lewis Moet and Martha Faye Eddleblute.
Growing up, Topper was known for his kindness, quick wit, smile, and math skills.  He graduated from La Feria high school where he played football, ran track, was voted by his peers as the most popular male student of his Freshman class, was class President his junior year and was in the photography club.
Topper spent childhood summers in Clark, Colorado and continued to visit the mountains whenever he could. Because of his love for the outdoors he, at one point, went to school to become a Forest Ranger at Stephen F. Austin State University.
He joined his step-father's company, Eddleblute Construction Company, where he learned the construction business and even built his first house. After several years working in construction, he took a job in the concrete business, where he moved up the ranks quickly. At the time of his death, he was working for Campbell Concrete/Heidelberg/Materials in Houston.
Topper loved his work with Campbell Concrete/Heidelberg Materials, where he worked for 20 years. He was loved by his co-workers, and customers for his dedication and hard-work, basically he was considered to be family throughout the industry. He leaves a great void in the hearts of the people he worked with, and mentored.
He enjoyed playing his guitar and singing, cooking amazing & memorable meals (with a speciality of Tres Leches cake), and tinkering with all kinds of things including rebuilding a jeep. He also loved fishing, hunting, skeet shoots, playing golf, and doing jigsaw puzzles.Topper put his heart into everything he did and people loved and admired him. He was a thoughtful and generous man who would reach out to help anyone. He will be remembered for his kindness and big smile and he will certainly be missed by anyone who knew him.
Topper loved his family dearly. Left behind to cherish his memory are his wife of 39 years, Martha Lois Moet, his daughter Leah Moet, his sister Johnnie De La Garza and her husband Rudy, and his step-children Christi Strickland and Michael Strickland. Also surviving are nieces and nephews including Dean McCall (Selina), Marie Ysais (Michael), Shelly Oliver (Scott), Allen Beavers (Kara), and Mandy Wilkerson (Andy).
He was preceded in death by his father, mother, step-father, Dean Eddleblute, step-sister, Nancy Eddleblute, sister Kathryn Beavers and nephew Michael De La Garza.
Joe (Topper) Allen Moet
1/29/1952 – 8/8/2023
A life well lived!
The family will receive friends and family on Monday, August 21, 2023, starting at 10:15am, followed by a Celebration of Life Ceremony at 11:00am at Crowder Funeral Home, 1645 E. Main Street, League City, Texas 77573.
In lieu of flowers, donations may be made to The Wounded Warriors Project, where you can donate in honor of Topper.
—