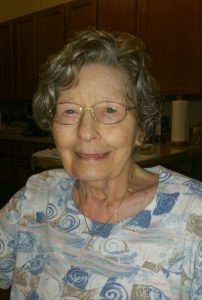 Joanne Alice Erdos (93) of Texas City, Texas, passed away on Thursday, September 30, 2022. She was born at home in Lincoln Township, Wisconsin, on October 5, 1928, to Helmer and Alice Aronson.
Joanne graduated from Grantsburg High School in 1946 then went on to graduate from Northwestern Bible College in Minneapolis and the University of New Mexico in Albuquerque in the 1950s.  She was an educator in the Albuquerque Public Schools until 1960.
Joanne met Tom Erdos when they rented adjacent duplexes in Albuquerque in the late 1950s.  They were married in 1960 and raised two children, Thomas, Jr., (spouse Peggy) and Alanna McCall (spouse Warren).  As resident of Texas City, Joanne was a member of several social organizations: the Lavender Ladies, the League of Women Voters, and the American Association of University Women.
She is preceded in death by her mother and father, her loving husband of 59 years, Thomas Erdos, and her brother, Erling Aronson. Joanne is survived by her two children and five grandchildren.
A visitation will be held on Thursday, October 6, 2022, from 6:00 to 8:00 pm at the James Crowder Funeral Home in La Marque. Interment will be Friday, October 7, 2022, at 2:00 pm at the Houston National Cemetery in Houston, Texas.