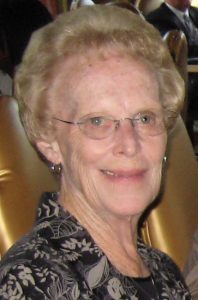 JoAnn Edith Palieri, 87, of La Marque passed away Wednesday, May 17, 2023, in Fort Collins, Colorado. She was born October 4, 1935, in Mabel, Minnesota, to Oden and Helen Rasmussen.
JoAnn was a Claims Representative and Service Representative for Social Security Administration for 35 years.
JoAnn was preceded in death by her husband Joseph John Palieri. She is survived by her son Joseph John Palieri II of Loveland, Co and daughter, Jana M. Cryan (Scott) of Clear Lake; 4 grandchildren: Madison Palieri, Aspen Palieri, Casey Magin, Taylor Cryan; and 1 great-grandson: William.
A Graveside Service will be held at 1:00pm Thursday, May 25, 2023 at Mount Olivet Catholic Cemetery, Dickinson, with Pastor Bill Cole officiating.
Arrangements are under the care of James Crowder Funeral Home.