Joan Marie Adams Halstead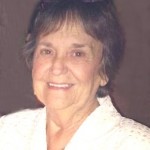 Joan Marie Adams Halstead, 77 of Texas City passed away on November 11, 2014 at Mainland Medical Center surrounded by her loving family.  She was born October 13, 1937 to J.H.N. Adams and Mary Elizabeth Doherty Adams in Galveston, Texas. She was a resident of Texas City for 20 years, formerly from La Marque.
Joan was a retired Purchasing Clerk for UTMB. She loved to watch her grandchildren play sports, watch the Aggies football games, loved to read and enjoyed being with her children, grandchildren and great-grandchildren. She was a member of the LMHS Tigers class of 1956. They were a close-knit group of friends that never lost touch with one another. After graduating, Joan attended Sam-Houston State University in Huntsville, Texas.
She is preceded in death by her parents and brother, H.N. Adams. She is survived by her daughter Rhonda Halstead Wilson (Scooter) of Dickinson; sons; Gregory Allen Halstead (Pamela) of Texas City, John Halstead (Sandra) of Dickinson and Donald B. Halstead, Jr. of Santa Fe; sisters Thelma Yeatts of Boise, Idaho and Rosalie Terry of La Marque, Texas.  Ten grandchildren; Jenny Wilson and Fiancé Bubba Featherly, Bryan Wilson (Catelyn), Amanda Halstead, A.J. Halstead, Jacob Halstead, Kristi Alfaro (O.J.), Clint Halstead, Kelsey Halstead,  Amy Cartwright (Matt), Lyndsey Harvey, Tripp Halstead and great-grandchildren Bailey Wilson, Paisleigh Wilson, Hunter Featherly and Caleigh Featherly, Ethan Alfaro and Addison Alfaro, and Kayla Cartwright. Her four legged companion Macy and very close personal friends Beverly, Nancy and Dolly.
A visitation will be Sunday, November 16, 2014 between 5:00pm-7:00pm at the James Crowder Funeral Home in La Marque. Funeral Service will be at 10:00am on Monday, November 17, 2014 at the James Crowder Funeral Home with Pastor Wayne Clement officiating.  Burial will follow at Galveston Memorial Park in Hitchcock, Texas.
Pallbearers will be Bryan Wilson, Bruce Terry, Jr., Bubba Featherly, Robbie Silvertooth, Gary Schaper, and Curtis Seelbach.  Honorary Pallbearers will be AJ Halstead and Jacob Halstead.