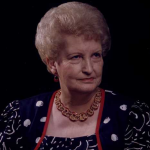 Jo Ann Phillips, 84, previously of Dickinson, Texas, current resident of Kerrville, TX, passed away February 14, 2014. She was born November 20, 1929 in Marshall, Texas to parents, A.C. Platt and Gladys Platt. She was longtime member of the First United Methodist Church in Dickinson and recently a member of St. Paul's Methodist Church in Kerrville, Texas.
Jo Ann enjoyed playing Bingo and Bridge, taking trips to Vegas with her sister, having dinner and spending time with family and friends, and she was a great cook.
She was preceded in death by her husband Earl Douglas Phillips, her parents, and brother, Gene Arthur Platt.
She is survived by her sons, Michael Douglas Phillips and wife Karen, and Pat Wayne Phillips and wife Leslie; sister, Marie Black, and sister-in-law Janelle Platt; five grandchildren, nine great-grandchildren, and one great great-grandchild.
Visitation will be held from 5:30 pm -7:30 pm Tuesday, February 18, 2014 at Crowder Funeral Home in Dickinson. Funeral Services will be held at 11:00 am Wednesday, February 19, 2014 at Crowder in Dickinson with interment following at Forest Park East Cemetery.