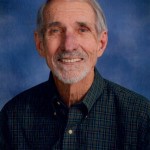 Jimmy Edwin Walters was born March 2, 1929, the son of Frank and Evelyn Franks Walters. He passed away Monday, February 10th at South East Memorial Hospital. He grew up in Hope, Arkansas and attended school there. He and Peggy Perrin married August, 27, 1950. They both graduated from Ouachita Baptist University in Arkadelphia, Arkansas in 1951. Jimmy served in the Army during the Korean conflict. After discharge, he and Peggy taught in Hot Springs, Arkansas and then moved to Pasadena, Texas.
Jimmy taught chemistry at South Houston High School, and then transferred to Clear Creek High School where he taught and headed the science department and then served as Assistant Principal. In 1973, he was named the Outstanding Chemistry Teacher for the State of Texas by the American Chemical Society. He also served on the Texas state textbook selection committee.
After retiring in 1988, he participated in marathons and triathlons all over the world including the Hawaii Ironman Triathlon, Boston and New York marathons and multiple Houston marathons as well as events in Australia, France and England.
He is survived by his wife of sixty-three years, Peggy, of Friendswood, daughter Ann Boss and husband Fred of Salem, Oregon, and son Phil Walters and wife Lorraine of The Woodlands. His grandchildren are Kate Boss and fiancé Henry Jinings, Lindsay Walters, Sarah Kelber and her husband, Judah. Great grandsons are Isaac and Aaron Kelber. His brother Bill Walters and wife Pat reside in Austin.
A memorial celebration of his life will be held for his friends and family at Golfcrest Country Club on Saturday, February 15th from 3:00-5:00 pm with the Reverend Rosemary Dubois presiding.
A donation in his memory to Friendswood United Methodist Church or The American Heart Association would be appreciated.