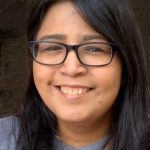 Jessica Marie Martinez (36), of Kemah, passed away due to health complications on Monday, June 12, 2023, in Webster, Texas. She was born in Galveston, Texas to loving and supportive parents Juan and Maria Martinez on July 17, 1986.
Jessica's favorite things were music from the 90s and early 2000s, and the Houston Astros. She enjoyed spending her time outside in the fresh air, and video chatting with her nephew MannyBannany. She had a creative lifestyle that explored finding and learning new crafts. Her hunger to learn and grow in all aspects of her life continued until her last days including her relationship with Jesus.
Preceded in death by Great Grandparents Rosendo and Francisca Huerta, Inez and Norbeta Alvarado, Grandfathers Angel Martinez and Guadalupe Huerta, and Uncle Felipe Martinez.
Jessica is survived by her son Nolan Matthew Martinez, parents Juan and Maria Martinez, brothers Juan David Martinez and Steven Gabriel Martinez and wife Noelia Christine Martinez and son Emmanuel "Manny" Lee Martinez, and many other loving family and friends.
The Family will receive friends on Friday from 10:30 AM to 12:00 PM with a Celebration of Life Ceremony at 12:00 PM at Crowder Funeral Home, 1645 East Main, League City, Texas 77573.
Interment will follow at Mount Olivet Cemetery in Dickinson, Texas