Jessica "Jess" Nizam Thalji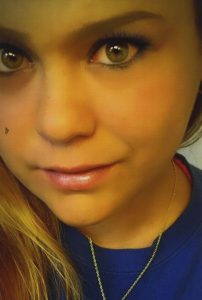 Jessica "Jess" Nizam Thalji, a resident of Dickinson, TX passed away on June the 30th in the year 2020 at the young age of thirty-six.  Jess was born in Detroit, MI on January the 8th in the year 1984, to Lisa and Nizam Thalji, but lived most of her life in Texas, so don't hold that against her.  Jess graduated from Dickinson High School in 2002.  Jess is survived by her daughter Madison Thalji, her mother Lisa Shaffer, her sisters Ciera Narcisse, Jacquelyn Narcisse, and Jessie McQueen and her spouse Chris, her brothers Norman Narcisse, and Abdallah Thalji and his spouse Mindy. Jess was preceded in death by her father Nizam Thalji.
Jess spent some time working retail, but spent most of her adulthood as a stay at home mother.  Jess was a fan of horror movies, especially the Childsplay series, Chucky dolls, she loved to cook and try new recipes, and was an ardent animal lover.  She was best known for her big heart, she cared deeply for her family, friends, and animals.
Jess was an advocate for pet adoption, making sure to share the animals that needed new homes or those who had found homes, some of them with her.  She loved staying in touch with people and family through lunch dates, writing letters, and just making time to visit.  She was an incredible aunt to her numerous nieces and nephews, always making time to be involved in their lives.  She was huge Houston Texans fan, as marked by always wearing a Texans hoody.  She just liked to be comfortable.
Viewing for Jess will be from 5:00 pm till 7:00 pm on July 5th at Crowder Funeral Home in Dickinson. Funeral service will be at 10:00 am on July 6th at Crowder Funeral Home in Dickinson.  Burial will follow at Mt Olivet cemetery.