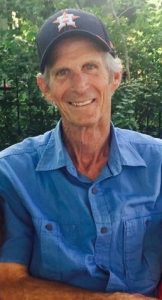 Jerry Ray Bryant passed away on Sunday, April 30th 2017 in Jamaica Beach, TX at the age of 64.
Born on December 30th, 1952 in Houston, TX, to Anne Marie Schmidt Bryant and Elmer Ray Bryant.
Jerry loved life and his family. He was an avid fisherman, the hardest worker you ever met, and spent a lot of his time working in his yard or spoiling his grandkids.
He was preceded in death by his parents, Anne and Elmer "Scoots" Bryant.
He is survived by his wife Mary Bryant.  His daughter Rachel McCune, her husband Mason and their two daughters Raylee and Haidyn. His brother Bill Bryant, his wife Cindy their children Justin Bryant and wife Grace and daughter Brittany and husband Chase Cline. His sisters Anel Harvey and Monica Morris and son Matthew Morris. His brother Tom Bryant and his children Zack and Vanessa McKee her husband Kirk and two kids Dylan and Nathan.
A Rosary will take place Wednesday, May 3rd at 7pm and Funeral Service on Thursday, May 4th at 10am at Crowder Funeral Home, 1645 E. Main Street League City, TX 77573.
In lieu of flowers, the family asks that you consider making a donation in his name to the American Heart Association.