Jerry Lee "Pops" Catching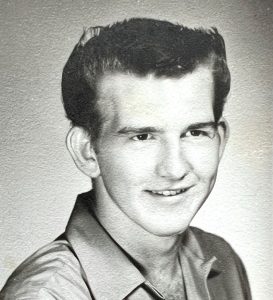 June 14, 1938, to January 13, 2023,  Jerry Lee "Pops" Catching: While he'd "hate to eat and run," after an 18-month battle with multiple myeloma Jerry had his fill of the bounty on life's table and is now dining in heaven where we hope the chef's patience is as limitless as god's kingdom. Those who practice shoddy workmanship will undoubtedly rest easier knowing Jerry's watchful perfectionist gaze can no longer be their undoing.
An affable hermit, yet Jerry knew no stranger, loved his family, and absolutely hated his cell phone. Growing up in Galveston, TX, Jerry helped with the family's corner grocery store (where being put into a coma by a car and later the 1947 Texas City explosion blowing in the school house windows almost cut this obituary extremely short).  After a fulfilling career working along the gulf coast – and for a time in South Carolina – for Galveston Shipbuilding, Todd's Shipyards & Southwest Marine, Jerry retired to Kingsland, TX. There he was hands-on with supervising the construction of his daughter & son-in-law's family vacation home built his own living quarters above the garage, and found a love/hate relationship with golf. Jerry loved staying busy with projects around the property, mowing with the zero-turn mower, and fending off the critters from eating his fruit trees.
As for golf, his hole-in-one, denied in life by the basic rules of golf (as he didn't finish the round…and was technically trespassing), this obituary restores to his trophy case.
He was preceded in death by his parents John & Thelma "Bombie" Catching, his two brothers Donald "Buddy" Catching & John "Junie" Catching, Jr., and his former wife Ellie Yates.
He is survived by his daughter Tamre McClelland (Kirk), sons Daryl (Amy) and Damon Catching, grandkids Al (Callie), James, and Morgan McClelland and Brendan Catching, and great-grandchild Gabriel, numerous nieces and nephews, as well as former wives Carmen Bryant and Carol Robinson.
Jerry was a good and decent man who is loved and will be missed.
A memorial service was held for Jerry Catching on Friday, January, 20th. He was laid to rest alongside his parents in Hitchcock, TX at Galveston Memorial Park Cemetery.
In lieu of flowers, the family requests donations in his name to The Multiple Myeloma Research Foundation (MMRF).