Jerry Edward Kneblik, Sr.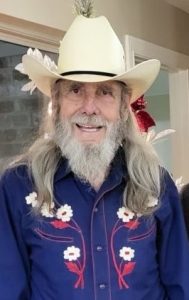 In loving memory of Jerry Edward Kneblik, Sr. He was born in Houston, Texas on September 3, 1943 and passed away on January 11, 2023 in Pearland, TX.
Jerry was known by his grandchildren (Cole, Bridgett & Cameron) as Goat Man, due to his love for all things goats. Throughout his life Jerry raised and shepherded hundreds of goats.  Though goats were his favorite, Jerry had a huge heart for all animals.  His beloved dog Junior and cat Hopper kept him company around the house.
It was not often you would see Jerry without starched blue jeans, a tucked-in button down shirt, a large cross necklace and a cowboy hat.   Jerry spent most of his life as a carpenter and touched countless lives with his skilled craftsmanship.  On his projects, Jerry made sure to include "Jesus Loves You" on the door frame, or any other wooden structure before the sheetrock went up.  God was at the center of Jerry's life.  By the end of every conversation anyone speaking with Jerry would have no doubt of his strong and undeniable faith.  Jerry often spoke about his strong connection to King David and his aspiration to be viewed by God in the same manner that God viewed David.  Like David, Jerry was a man after God's own heart and a shepherd of goats.
Jerry loved his family with all his heart and was so proud of each of their accomplishments. Jerry's work ethic was unmatched and he made sure to instill that same dedication and passion unto to his children and grandchildren.  After every conversation with his family there was never a time where he didn't tell or show them that he loved them.
Jerry was passionate about all things drag racing, Ford Mustangs and the Houston Oilers.  Most would argue there is no bigger Elvis fan than Jerry.   Most would also argue there is no stronger admirer of Selena.  Jerry's family is comforted knowing that Jerry is with our Lord and Savior in heaven, hanging with Elvis and dancing with Selena.
He is preceded in death by his father, Andy Kneblik and wife Pauline and mother, Virgina Dobbs and husband Bill.
Left to treasure and carry on his memory are his daughter, Kimberly Falcone; son, Jerry Kneblik, Jr., wife Nina; grandchildren: Dalton Cole Kneblik, Bridgett Nicole Falcone, and Camron Blake Falcone; sister, Janis Andres, and husband Bob.
In memory of his love and affection for animals, memorials may be made to the Shari D. Coleman Animal Shelter & Adoption Center in Pearland.