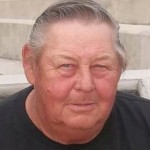 Jerry Carroll Tullos, 62 of La Marque passed away Tuesday, March 4, 2014 in Texas City, Texas. He was a longtime resident of La Marque, formerly from Lake Charles, Louisiana. He graduated from La Marque High School in 1971.
He was born May 5, 1951 to Carl and Martha Tullos in Monticello, Arkansas.
Jerry was a Pipefitter for Local 211 but retired from Local 106 in Lake Charles, Louisiana.
He loved fishing and spending time with all his family and friends.
He is preceded in death by his parents, step-father Charles Klyng, Jr. and his two brothers Carl Tullos and Charles Klyng III. Jerry is survived by his wife Renee Tullos of La Marque; two daughters and sons-in-law; Dewana and Marion Jackson of Joaquin and Deanna and George Zepeda of Texas City; son and daughter-in-law Dewayne and Tamica Tullos of Lake Charles, sister Kathy Maly, two brothers James E. Klyng, Sr. and Donald L. Klyng, Sr. and one aunt Helen Foster; seven grandsons and one granddaughter; two nephews Phillip Tullos and Steven Tullos.
Visitation will be Thursday, March 6, 2014 from 5:00pm – 8:00pm at the James Crowder Funeral Home in La Marque with funeral at 7:00pm. Brother Dale Nazworth of Lake Charles, Louisiana will be officiating. Graveside service will be Saturday, March 8, 2014 at 10:00am at the Lacey Cemetery in Lacey, Arkansas.