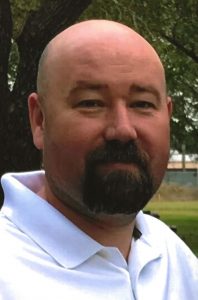 Jeffrey Wayne Essex, of League City, Texas, passed away on Friday, July 03, 2020, in League, Texas, at the age of 42. He was born on August 12, 1977 in Ventura, California.
Jeff married his true love and best friend, Nevia Lorraine Gonzales on January 4, 2003 in Las Vegas. Jeff was devoted to his wife and children. When he wasn't with them, he was talking about them. Every free minute he had he chose to spend quality time with his family.
Jeff worked for Jimmy Changas and Gringo's Mexican Kitchen the past seven years. He was currently at the League city location as an assistant manager. He was a dedicated employee. He was a kind, personable person. These qualities made lasting impressions on coworkers/employees and interactions with customers.  He was a great friend who will be missed by many.
Jeff is survived by his loving wife of 17 years Nevia Lorraine Essex; parents Glen and Sue Essex; daughter Brooke Ariel Essex; sons Brandon Allen Essex, Everett Kale Essex and Holden Elliott Essex, brother, Joe Cannon Essex and his two fur babies, Lily and Astro.
He also leaves behind to cherish his memory his in-laws Bernard and Lorraine Ward who adored their son-in-law; father-in-law Frank Gonzales; sister-in-laws Tricia Elkins, and Jen (Jason) Jones; Nephews Ethan Elkins, Jaxon Jones; Niece Preslee Jones; and many other loving family and friends.
The Family will receive limited friends on Friday, July 17, 2020 at 9:30 AM with a Ceremony to follow at 11:30 AM at Crowder Funeral Home, 1645 East Main, League City, Texas 77573.  Interment will take place at Mount Olivet Cemetery in Dickinson, Texas.
Due to the COVID 19 public gathering restrictions, Crowder Funeral Home requires all visitors to wear a mask and maintain a social distance of six feet from attendees. Maximum occupancy is 60 guests. Please maintain a social distance during the visitation and while seated in the chapel. We will offer the opportunity of viewing the ceremony via a private YouTube Channel. For information on how to access the ceremony online, please contact the family.
Memorials in memory of Jeffrey may be made to PTSD Foundation of America or a local animal shelter.