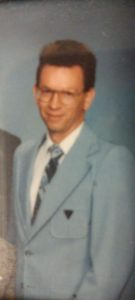 Jeffrey Arthur Hansen age 63 passed away on  Oct 17, 2022 in Webster, TX.  He was born on April 8, 1959 in Minneapolis, MN. to Evelyn Witek Hansen and Roger Henry Hansen.  He is survived by: his father Roger;  sister, Judy Lynn Hansen; brothers, Jerome Gary Hansen and Joel Wallace Hansen and numerous family members and friends.
He worked as a transporter at Enterprise. He had a passion for historical data and music trivia.
A memorial service will be held on the 8th day of November  2022 at 10:00 am at Forest Park East Cemetery in Webster TX.