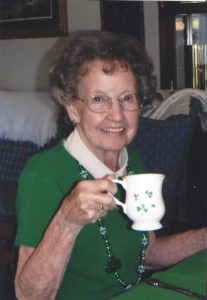 Jeanne M. Lutz, 96, died peacefully surrounded by her family on Thursday, February 20, 2020, in Houston, Texas. Jeanne was born on November 3, 1923, in Fullerton, Nebraska, to John and Julia Kennedy. She grew up on a farm outside Cedar Rapids, Nebraska, and attended Cedar Rapids High School graduating in 1941. After graduation, she moved to Clinton, Iowa, to live with her older sister and her husband, Lucille and Sam Ruma. In Clinton, Jeanne met the love of her life, Charles Lutz. Married on February 16, 1943, in Bakersfield, California, Jeanne and Charlie raised six children moving from California to Iowa to Ohio and finally to Houston, Texas, as Charlie was an early NASA pioneer.
Jeanne is preceded in death by her loving husband of 60 years, Charles, her twin brother, Melvin "Bud" Kennedy, brothers Leonard, Arnold, Donald, and Carroll Kennedy; sisters Lucille Ruma and Maxine Robinson; and son-in-law Ron Etzel. She is survived by her sister Joan Batenhorst, daughter Judy Etzel; daughter Marilyn Hoglen and her husband Bob; son Wayne Lutz and his wife Bobbie; daughter Joan and her husband Paul; son Glenn and his wife Brenda; and daughter Ann and her husband Dennie. Jeanne is lovingly remembered by her 16 grandchildren (and their spouses): Greg (Dedra) Etzel; Kim (Ed) Buskirk; Lisa (Brian) Triche; John (Wendy) Hoglen; Jody (Max) Vasquez; Jenni (Brian) McCoy; Brad (Jess) Lutz; Brian Covell; Katie (Brian) Reed; Laura (Brian) Anderson; Michael (Tori) Covell; Aaron (Bethany) Lutz; Abbey (Jeff) Sickorez; Kerri and Kelsey Pearson; and Patrick Grigsby; as well as by her 28 great-grandchildren: Zachary, Alex, Grace, and Harry Etzel; Casey, Megan, Nathan, Savannah, and Addie Buskirk; Jackson and Ainsley Triche; Juliet and Ethan Hoglen; Alex Vasquez; Ashley and Brittany McCoy; Kennedy and Brayden Lutz; Tucker and Hunter Anderson; Kinsley and Brooke Reed; Jasper Covell; Addie Jo, Evan, and Annalee Lutz; and Landon and Logan Sickorez.
Should friends desire, memorials may be made to the charity of their choice. The family will receive friends at Crowder Funeral Home, 111 E Medical Center Blvd, Webster, Texas, 77598, for a visitation on Monday, February 24, from 6-8 PM, and for a celebration of life service on Tuesday, February 25 AT 10 AM with internment at Mt. Olivet Catholic Cemetery in Dickinson, Texas.