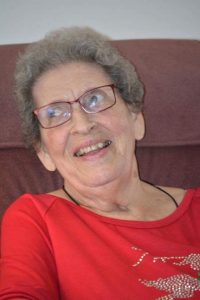 Jeanette Nolen Coe, 84, of Dickinson, TX, passed away on April 4, 2017.  Jeanette was born on August 15, 1932, to Dumar "Slim" and Minnie Nolen in Griffin, GA.  She worked for many years in hospital administration and later in life volunteered for several organizations where she found great joy in giving of her time to help others.
Jeanette was a faithful member of Holy Trinity Episcopal Church in Dickinson and loved her church family.
Jeanette was preceded in death by her parents and her husband, Josiah (Si) Coe.
Jeanette is survived by her son Harold Coe and daughter Kathy Deats and husband Ernie; sister Jo Ann Camp; numerous nieces and nephews and many dear friends.
A visitation in her honor will be held 5:00-7:00 pm, Sunday, April 9 at Crowder Funeral Home, FM 517, Dickinson, TX with funeral services 11:00 am, Monday, April 10 at Holy Trinity Episcopal Church, Hwy 3 in Dickinson.  Graveside services will follow at Forest Park Cemetery on I45 South.
In lieu of flowers the family requests donations to Holy Trinity Episcopal Church, 4613 Hwy, Dickinson, TX 7539; MI Lewis Social Service Center, P O Box 1542, Dickinson, TX 77539; or DISD Education Foundation, 2218 FM 517 East, Dickinson, TX 77539.