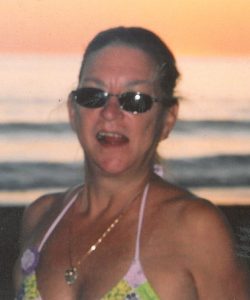 Jean Marie Morgan, 61, a resident of Santa Fe, TX for over 20 years passed away in her home on December 12, 2019. Jean was born in Texas City, TX on November 28, 1958 and was raised of the Lutheran faith. Jean graduated from La Marque High School in 1977. She had many hobbies and enjoyed riding trains, loved to travel especially to Belize, gambling and enjoyed reading the Galveston Daily Newspaper. Jean loved her shoes and had plenty of them. And, when the show Wheel of Fortune was on, we would not dare interrupt her. Jean enjoyed cooking but her specialty was baking, she was also known as the "Little League Queen".  Jean would never forget a birthday you could always expect to receive a birthday card and a Christmas card every year. She was always thinking about others. People would say that there was never a dull moment when she was around lol.   But nothing was more important to her than the love she had for her grandchildren.
Jean reunites with her husband Ralph "Butch" Morgan, Jr.; mother, Ernestine Goebel.
Jean is survived by her sons: Carson Kline, wife Wendy and Nathan Kline; grandchildren: Caden Kline and Madison Kline; father, Royal Goebel; sisters: Jo Anne Goebel-Brown, Janet Goebel and Gary Rehm and Jeri Benoit, husband Mark; nephews: Gordyn Kirschner, wife Valerie and Shawn Catrett.
Visitation will be held from 5-8 p.m. on Sunday, December 15, 2019 at Crowder Funeral Home, 851 FM 517 Rd W. Dickinson, TX 77539. There will be a service on Monday, December 16, 2019 at 11 a.m. at Peace Lutheran Church, 9111 Emmet F. Lowry Expy, Texas City, TX 77591 with Matthew Brackman officiating. Entombment to follow at Galveston Memorial Park in Hitchcock, TX.