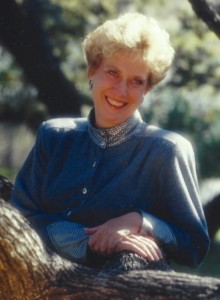 Jean Ehrke Farrar Robson, known as Beth to her friends and family, died in her Clear Lake home on December 10, 2015 after a recurrence of cancer.
Beth was born on November 28, 1945 in Marshalltown, Iowa. She was the second child born to Al and Jean Ehrke and sister to older brother Tom. She grew up in Cleveland, Ohio and graduated from Hathaway Brown, an all-girls college preparatory school She went on to Iowa State University where she was a member of the Kappa Alpha Theta sorority, Angel Flight, and the College Young Republicans. She graduated in 1967 with a degree in Food and Nutrition.
After working in Columbus, Ohio as a dietitian she married Michael Harrison Farrar and moved to Detroit, Michigan. Eventually settling again in Cleveland she became the loving mother to three children who adored her: Jeanne, Kate. and Mike.
The family eventually moved to Houston and settled in Nassau Bay. Beth was a devoted mother, excellent stroke and turn judge in the summer swim league, and lively doubles tennis partner. After her divorce, Beth went back to work, first as a registered dietitian at St. John's Hospital and eventually joining the food service department of Deer Park Independent School District. She was a natural manager who was promoted to head of all of the food service for the district.
Beth married David Michael (Mike) Robson in 2001. She and Mike enjoyed a joyful and adventurous life together, traveling extensively and visiting and caring for their large and growing extended family.
Beth is survived by her husband Mike, her daughter Jeanne and husband Joe Kaliszewski, her daughter Kate and husband Joe Ernst, and her son Mike and wife Shannon Farrar. She also left the legacy of a beautiful brood of 14 grandchildren who will miss her dearly. She was predeceased by her brother Tom.
St. Irenaeus wrote "The glory of God is a human being fully alive" and Beth most certainly embodied that glory and love of life. She was a gift to all who knew and loved her.
Memorial Service to be held at Good Shepherd Episcopal Church – 1201 W. Winding Way Dr., Friendswood, Texas 77546, December 16, 2015 at 6:oopm (281)482-7630