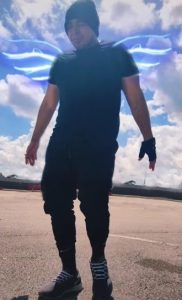 Jason Michael Hernandez, 38, a resident of Houston, TX, passed away on December 7, 2022 in Houston, TX. He was born April 5, 1984, in Houston, TX. Jason was a supervisor in fast food restaurants and enjoyed making TikTok videos which had almost 5,000 followers. One thing he loved was dancing (even though he wasn't the best haha) and making funny videos for the world to see. Jason always had everyone around him laughing. Always had quick comebacks and joking around was one of the best features about him. The goal was to make sure those around him were having a good time. Growing up Jason would help care for his little sister Joana Russell and made sure they had the ultimate fun. Joana recalls the best time was "covering the stairs in their townhome with blankets and riding down on a mattress only to fall against walls or doors. But they would crack up laughing and go a hundred more times". He always knew how to make the best out of every situation. But out of everyone in his life there was one person he was close to and hardly went a day without speaking to, that was his cousin Nino Garza. Their bond was like no other. Nino was never a fan of TikTok or social media, but Jason had a way of having him show his presence at times. Nino was always there for his cousin under any circumstances. Everyone knew Jason was a goofball, but he was also very smart when it came to intellectual conversations. Always had his head in books, especially those on Psychiatry. When he was not making people laugh or reading, he would have that Xbox controller in his hand. That was his way of de-stressing, grabbing that controller and losing track of time. Jason was a great son, brother, cousin, dad, husband, and friend. His son Codi was his greatest achievement in life. He wanted Codi to always be surrounded with so much love and support. He tried to teach Codi how to be a gamer at only 6 months old. For his mother, she is going to miss him asking for a few dollars only to find out it was usually more than $50. She would laugh and say, "that is not a few dollars son". He would laugh and charm her with his beautiful smile that she always gave in to lending the money. The smile he had could light up the world. Jason touched so many lives and is going to be missed greatly by so many people.
He is preceded in death by his stepfather, David Renteria, paternal grandfather Joe Hernandez and maternal grandfather Tony Sandoval Sr.
Jason leaves behind his wife, Quendis Hernandez; son, Codi Hernandez; Grandmothers, Petra Sandoval and Mary Hernandez; father, Jose Hernandez, wife Joanne Hernandez and mother, Irene Renteria; sisters, Joana Russell, husband Jeremy Russell, Jennifer Hernandez, and Miranda Hernandez; brother, Adam Hernandez, wife Athena Hernandez; step-sister, Ashley Landry; step-brothers: Timothy Doiron, wife Lauren Doiron, Alex Renteria, wife Michelle Renteria, Matthew Landry, and Joshua Landry. He also had many aunts, uncles, cousins, and friends he leaves behind.
A visitation will be held from 10 a.m. to 12:30 p.m., Thursday, December 15, 2022 at Crowder Funeral Home in Pearland.
In lieu of flowers, family request donations be made to the GoFundMe
Link. https://gofund.me/c67c9591